Egg-ceptional: Food processor Almark brings construction, permanent jobs to Yuma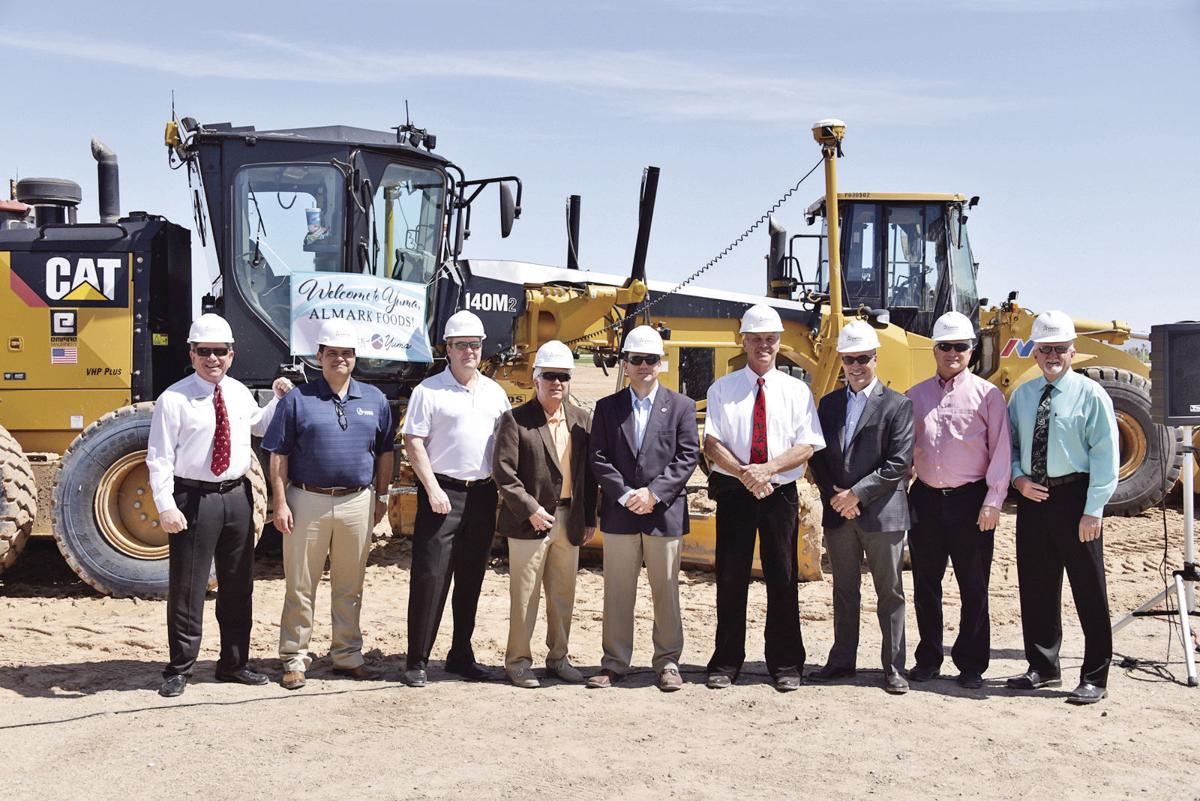 By Matt Harding, Sun Staff Writer,  Apr 9, 2017  (Photo by Matt Harding, Yuma Sun)
Almark Foods, the Georgia-based egg processing company that will bring 100 full-time, year-round jobs to Yuma by spring 2018, had plenty of choices for its westward growth.
John Stanton, founder and co-owner of Almark, was at the March 28 ceremony that welcomed the hard-boiled egg maker to the northwest corner of Avenue 4½ E and 36th Street, where construction on the company's fourth facility began about a week earlier.
He told the Sun that Las Vegas, Phoenix and its suburbs, and St. George, Utah were all possible expansion cities.
"All of those places met the distribution capability criteria, but Yuma — in addition to that — had the workforce," Stanton said. "We had an immediate connection with the folks here and felt like they fit our size.
"We wanted to be a big deal to the community, and we feel like we're a big deal to Yuma," he added, referring to himself and fellow owner Don Stoner. "Yuma also supports the business we're in, which is food processing, and that was important to us."
While Almark already ships to all 50 states, Stanton said he's "really excited" to make the process more efficient in Yuma, which he called their western "flagship location." The company, headquartered in Gainesville, Ga., also has a facility in Newberry, S.C., and one outside of Knoxville, Tenn.
Yuma's plant will be a 120,000 square-foot building on a 17-acre property Almark purchased from the city in December for about $1.46 million.
When that plant opens about a year from now, $27.5 million will have been invested in it — with the land purchase and construction of the building among that investment cost.
Inside the plant, state-of-the-art equipment that cooks, chills and peels hard-boiled eggs will be installed. About 100 full-time, year-round employees will inspect, sort, package and ship the products, which are sold at Kroger, Costco, Safeway and Publix, among other retail partners.
"We feel like we'll be a big contributor here as a non-seasonal, year-round food processor," said Stanton, who added that they'll offer a "competitive starting salary" to their workers.
That salary is something that Ronaldo Luna, the plant's general manager, will help determine.
Luna noted the importance of having a highly knowledgeable local workforce that has experience in food manufacturing — one of the main reasons Almark decided to build here.
He said they'll be more proficient at learning the new German technology going into the plant, which he said is the most modern and efficient processing equipment available.
The workforce here, he said, will have no problem operating and maintaining that equipment with minimal training.
Getting Almark to settle in Yuma didn't happen overnight. The company had good opportunities elsewhere in the region, but educating them about the benefits of anchoring here was up to the city and the Greater Yuma Economic Development Corporation, whose involvement Mayor Doug Nicholls said is integral in bringing private sector projects to fruition.
GYEDC president and CEO Julie Engel said at the March 6 Yuma County Board of Supervisors meeting that the addition of Almark Foods is "going to be a windfall during construction" and increase property tax revenues. It's also spurring further interest in Yuma among food processors, she told the board.
City Administrator Greg Wilkinson previously told the Sun that he and Nicholls met with one of the owners in Phoenix when they were strongly considering a location in that area.
"One of the things I told them was, 'You know, if you stay in Phoenix, you'll be a little fish — or you could come down to Yuma and you'd be a big fish in a small pond,' and they liked that," he said.
Now, they're here and moving dirt.
Earthwork at the site — done by Yuma County contractor Naquin Precision Earth Moving — began around March 20. That was the first day of spring, a fitting symbol considering the growth of something substantial in Yuma.
Stellar of Jacksonville, Fla., is the general contractor on the project.
Tom Boll, Stellar's vice president, was at the ceremony in late March and told the Sun that the company specializes in building food plants, though this is their first project with Almark.
They are aiming to have mostly local subcontractors, like Naquin, on the project. Bids for work on the project will come up as the project progresses. "Ideally it's to get as much local presence as we can," Boll said.
Project manager Grayson Avery said he'll be at the site at least once a month to ensure the build is moving along.
About 200 total construction jobs will have been created throughout the whole project, though it will be an average of about 100 workers at a time during the build.
John Courtis, executive director of the Yuma County Chamber of Commerce, said the project is a great first step for manufacturing investment in the area.
He noted that Almark had a lot of choices, and commended that they made their $27.5 million investment here.
Perhaps most importantly, Courtis said, "When you're moving dirt, you're moving money."