Yuma Sun bids farewell to Joyce Lobeck
By Blake Herzog Yuma Sun Staff Writer | Posted: Monday, September 29, 2014 8:39 pm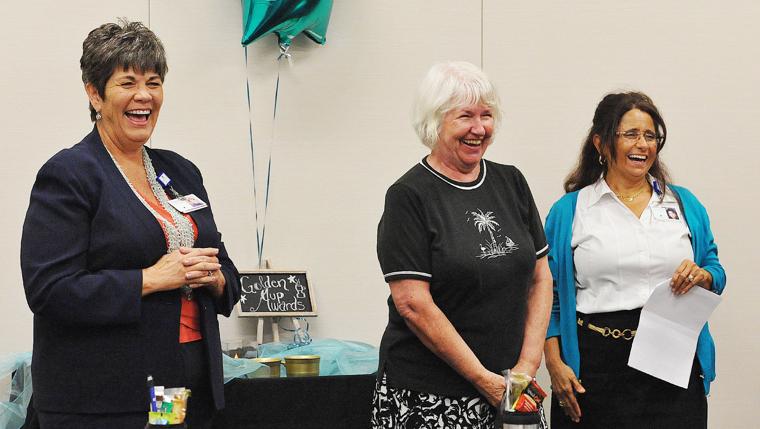 31 years in the making
Retiring Yuma Sun reporter Joyce Lobeck (center) is honored Thursday with a Lifetime Achievement Award from Yuma Regional Medical Center. Participating in the ceremony are Camie Overton (left), YRMC's interim president and chief executive officer, and Machele Headington, YRMC's vice president of community relations.
There are people for whom the dream of retirement keeps them going through the daily grind. And then there's Joyce Lobeck.
"There was no retiring at 62 for me," the 31-year Yuma Sun reporter said. "Then 65 came and went, I tried part-time and that was a miserable failure. I wanted to do as much as I'd done before, but I didn't have the hours."
Today will be her last day at the paper, more than nine years after she turned 62. She said she knew it was time on her last birthday in June: "I really don't want to leave my job, but feel it's time to begin the next chapter in my life."
Lobeck intends to continue freelancing for the Sun and other publications, but admits she is beginning to come up with other things to do besides report on Yuma news. "As the time comes closer the possibilities are opening up, with 'Oh, I'll have time to do this now,'" she said.
She's leaving soon for her home state of Montana to attend her aunt's 95th birthday party. "And I want you to put in there that I will be flying out of Yuma," she added, in light of her recent coverage of Yuma International Airport's efforts to attract more airlines after United Express announced it will end flights to Los Angeles in December.
Lobeck said she's done a little bit of everything during her tenure, but has been most in her element covering the ups and downs of the Yuma economy, whether it's through her "Comings and Goings" column about business openings and closings or stories about large projects like the Yuma Palms Regional Center, which opened its first stores a decade ago.
"I made a game out of guessing which stores were going to come in before the developer announced them. I drove the developer crazy. I had very good sources," she said.
Agriculture, the region's core industry, has been the common thread through all three decades of coverage, having been assigned to it in part due to her family history heavy on wheat farming.
Former Yuma Sun Editor Terry Ross, who hired Lobeck in June 1983 despite her lack of professional experience, said Lobeck made ag a staple of the paper's coverage. "She shone light on not just agriculture, but on information which seemed to be complex and confusing to readers," he said. "And that carried on to her coverage of city government."
One of her most widely circulated stories was about local grower Tim Dunn's field of kosher matzah wheat used in crackers eaten at Passover by ultra-orthodox Jews, who send rabbis to the desert in June to oversee the process, since the wheat can't be touched by moisture once it matures.
"There were all these rabbis wearing heavy black coats and hats in the 105-degree heat, it was very strange," she said. "I got calls from all over the country on that one."
She says she inherited her love of writing from her grandmother, a Danish immigrant who wrote extensive letters back home, and father, an educator who translated his mother's words into English to produce a three-volume autobiography.
She got a better idea of the direction that talent would take her as a glockenspiel player in the Helena Senior High School marching band. "The school newspaper did a story about the twirlers taking a trip and oh, by the way, they were accompanied by the marching band, too," she said. "So I went in there to tell them what really happened. And it turned out I was good at writing."
She got her journalism degree from the University of Montana in the 1970s as a single mother to Philip, Michael and Maia, when it was rare for anyone in that position to do so. She then married a Marine and the family lived in Hawaii for three years, where her daughter Malia was born, before being transferred to Yuma.
When she wasn't initially hired by the newspaper she took a job with the Bureau of Reclamation, only to give her two-week notice after two days, when Ross interviewed and hired her. "In hindsight, I probably would've made more money if I'd stayed with the Bureau of Reclamation, but I always wanted to be a reporter," she said.
Her career at the Yuma Sun has given her the chance to ride with the Blue Angels for an hour, go to the bottom of the Grand Canyon with the Marines to deliver toys to Havasupai children, and interview celebrities and other performers before they came to town. "I think anyone who says there's nothing do to in Yuma isn't paying attention," she said.
She added, "But really my favorite is just having normal people, Yuma people, sharing their stories with me."
She's written about the needs nonprofits like the Yuma Community Food Bank and Humane Society of Yuma try to fill, and documented the transformation of the riverfront from a place with weeds and transient camps to be avoided to a tourist attraction with hotels and parks.
The ongoing expansion of Yuma Regional Medical Center has taken up most of her time recently. "It's really been exciting covering all the development going on at the hospital. In a way it seems like a good way to end my career," she said.
YRMC gave Lobeck a Life Achievement award during its media appreciation luncheon last week, and Southwest Arizona Futures Forum recognized her as well.