Yuma mayor's State of the City speech
By City of Yuma Mayor Doug Nicholls | Posted: Wednesday, February 4, 2015 8:03 pm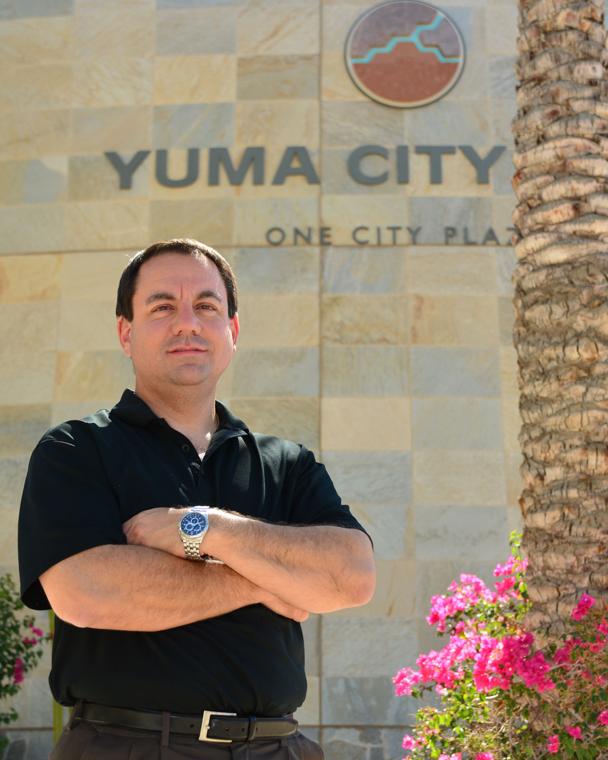 Mayor Doug Nicholls
Looking back over the last year, "it has been very good," said Mayor Doug Nicholls. "It doesn't mean we always agree. It does mean at the end we are looking out for the betterment of everybody."
2014 has been a year of great strides forward. This year saw the sitting of a new council who was comprised of 3 brand new councilmembers and a new mayor, joining 3 seasoned councilmembers. The mix has provided for some insight with guidance, some different ideas with experience to nurture the development of those ideas. In my personal opinion, the highest level of accomplishment this year was the coming together of these seven people to address some serious issues in the City and to set the course for the future of Yuma.
So along with these six people, I would like to review the year of 2014 and preview this year of 2015.
The local economy is always a subject of discussion with some ambiguity on how to assess it. Let's look at some statistics to help clear up that ambiguity.
In 2011, the City's Department of Community Development issued only 73 single family home permits.In 2014, DCD issued over 300 home permits. About 4,700 total construction permits were issued in 2014 with a valuation over $150 million, an increase of$20 million from 2013. In 2014 we had 128 businesses not renew their city business licenses, while 440 new businesses opened up their doors, a gain of over 300 new businesses in the City.
In the retail sector, there were 8 restaurants that closed their doors, mostly for corporate reasons; however we had almost double that number of new or rebranded restaurants open. Even with this fluctuation, our hospitality tax revenue from restaurants and bars is up 16% and hotels is up 14% over this month last year. That is an extremely strong growth in this area.
Sales taxes within the City generate the largest single source of income for the City's General Fund and is usually a significant indicator of the strength of the local economy. For the 3rd year in a row, the City's sales tax is up again a very respectable 3%.
Besides just tax revenue, the unemployment numbers is also used as a significant indicator of economic strength. To be honest, these numbers do not report as quite as well. The US Federal government's unemployment rates of 22% overall in Yuma County and 10% in the City of Yuma are still too high. In 2014, new base industry businesses and expansion of existing businesses created 288 new jobs in the City and 551 jobs County-wide. This is an area we will continue to push for more growth.In this next year, we are actively pursuing new investments into our industrial base, seeking incentive opportunities for quality base section employers and looking to foster entrepreneurial growth.
Another area we need to look for solutions is in our roadway network. The Highway User Revenue Fund or HURF was swept by the State Legislature a few years ago to avert a statewide crisis. The funds have yet to be returned to the local governments, which is causing a different kind of crisis. Our roadway maintenance and improvement programs have suffered, and time is beginning to take a toll on our roads. Even with the significantly reduced budget, our Public Works Department has performed some significant maintenance activities to nearly 100 lane miles of roadway while sweeping over 5000 miles of roads. In the long run, the condition of our roads will impact not only our livability of the city, but the ability to attract new industry to the area.Fixing this issue will take the next couple of years to resolve.
Beyond the statistics, there have been many great accomplishments throughout the community. Together with San Luis, Somerton, Wellton and Yuma County, we launched our United For Yuma campaign that highlights the things that make the greater Yuma area great. We have taken control of telling our story, instead of letting those from outside of the Yuma community tell who we are.We have held numerous meetings with community partners, launched a video competition inviting people to "Show Us Your Yuma", and promoted the overall perspective of working as a community, as well as a social media presence to demonstrate the United for Yuma message. Look for more to come.
The celebration of the Centennial anniversary of the incorporation of the City of Yuma has been a continuous celebration all year. It began with Governor Brewer lighting our new Main Street signs in April. We followed that with an ice cream social, a barbecue, fire works, setting 2 world records, a music festival, burying 3 time capsules, and opening of Centennial Beach and the Yuma Valley Park. We look forward to the conclusion of the Centennial year this April with a potential visit from Governor Ducey and the burial of the 4th time capsule.
We have had other notable events in our community like the opening for the Judge John Roll Federal Courthouse, the commissioning by the United States Navy of the USNS Yuma, and new commanders at Yuma Proving Ground with Col. Randy Murray and at MCAS with Col. Ricardo Martinez.
Unfortunately, on December 28th, we as a community experienced the loss of a very significant part of our community. An arsonist took the Stewart Vincent Wolfe Creative Playground, otherwise known as the Castle Park, from all the children who played there, and all the people who worked to construct the park.
And as quickly as it caught fire, something else caught fire in Yuma, and that was the movement to rebuild this park. Literally, from the ashes of the original build, people are coming together to reconstruct the castle. The determination of the community will recreate the site of countless memories and provide for the opportunity to create countless more memories.
To make this happen, many things are taking place. The Yuma Police Department is looking to capture the individual responsible. There has been a reward fund established that is currently over $14,000. Call the Yuma PD or 78CRIME if you have any information.
The insurance appraisers are currently reviewing the claim and have visited the site. We expect more information on the insurance in the near future. A community grassroots fundraising effort is underway to help with the cost to reconstruct. We will be looking towards rebuilding sometime after this summer.
Including the rebuilding, we have many exciting developments expected this year. CalRanchStore opened and Main Street Theaters and the South Gate Mall reopened already this year. We will be welcoming Hobby Lobbyin the near future and potentially other major retailers that are currently getting ready to commit to Yuma. We anticipate the creation of new jobs through the expansion of companies like Liquid Eyewear, the only Made in the USA eyeglass manufacturer, DatePac, a Yuma-based partnership that is driving the Medjool date industry, and through new developments throughout the area likeS and A Industry, a Toyota parts manufacturer. And we will be welcoming 2 professional development league soccer teams who are calling Yuma home.
And let's not forget your involvement in the governance of the City. We will have 2 elections this year; one in March to determine the rezoning of property for a potential WalMart Marketplace store and redevelopment at 8th Street and Avenue B; and another election to determine 3 city council seats. Please take your time to understand these ballots.
And finally, the City municipal organization will be reviewing service. This Centennial year has been an opportunity to reflect on a Century of Service. With that in mind, we will be reviewing the current ways of providing service internally and externally, looking for the successes, looking for the areas for improvement, and ultimately looking for a way to say YES as we move Service into the Next Century.
2014 was a busy year with many things we as a community can take pride in having accomplished. This year of 2015 looks to be busier yet as we build upon this pride to build a better Yuma.