Yuma-born Brooks oversees Customs operations in Arizona
From Bajo El Sol | Posted: Tuesday, June 10, 2014 5:24 pm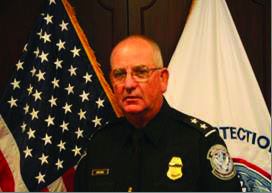 William Brooks
The man newly named to oversee the Customs operation at airports and ports of entry across Arizona knows all about border issues in the Yuma area.
William K. Brooks was born in Yuma, raised in Somerton, and before his latest appointment he was director of the U.S. Port of Entry in San Luis, Ariz.
Brooks was sworn in May 30 as director of field operations for the Tucson office of U.S. Customs and Border Protection, an assignment that makes him responsible for supervising the agency's operations at the state's six land crossings on the Mexican border, as well as at airports in Phoenix, Tucson and across the state.
In a recent interview, Brooks pledged to "never waver" in carrying out CBP's mission of sealing the crossings against smugglers and otherwise assuring national security. At the same time, he recognizes that the agency must balance that task with assuring the orderly flow of legitimate commercial goods and travelers between the two nations.
Traffic growth at the border have prompted appeals from San Luis, Ariz., officials to the federal government to convert the city's newly opened commercial port of entry to handle private vehicles as well as semi tractor-trailers, and Brooks said initial planning is under way to make that happen.
All ports of entry overseen by Brooks annually process an estimated 23.5 million people arriving from other countries, as well as 8.1 million vehicles, nearly 462,000 commercial trucks and rail cars, plus $21 billion in international trade, according to CBP statistics.
"I am honored and humbled to be director of field operations in Tucson," Brooks said in a statement. "My goal is to improve the ports I have been entrusted to oversee, and to continue to work closely with our stakeholders.
"Additionally, I want to assure the American public that I will continue to support the local communities without wavering (in) my overall responsibility of securing our nation's border."
In 1984 – a year after Brooks began his federal law enforcement career with CBP's forerunner, the U.S. Customs Service – the federal government completed construction of San Luis I, the port of entry located next to the Arizona border city's commercial downtown.
The port served both commercial tractor-trailers and private vehicles arriving from Mexico, but growing numbers of border crossings in the decades since prompted commercial traffic to be rerouted through a San Luis II, a second port opened five miles to the east in 2010.
In recent years, even as it has concerned itself with stopping smugglers from slipping drugs and other contraband through the San Luis port, CBP has taken steps to assure the smooth flow of lawful travelers across the border, said Brooks.
For example, the agency has instituted in San Luis the SENTRI trusted traveler program, which allows area residents who have passed background checks to make expedited border crossings through a dedicated lane. And the agency has increased the number of lanes for private vehicles crossing through San Luis I from six to 10.
San Luis officials have in the past lobbied federal government to further expand and remodel San Luis I, although federal officials say no funds currently are earmarked for what would be a project of more than $80 million. That, in turn, has prompted San Luis Mayor Gerardo Sanchez and other city officials to appeal to the federal officials to modify San Luis II to handle private traffic, thereby drawing vehicles away from San Luis I.
In fact, said Brooks, the master plan for San Luis II designates eight acres at the site for an eventual expansion to handle passenger vehicles.
He said the preliminary stage of planning is under way for such a modification that would be financed with private as well as public funding. He did not specify a timetable for the project.
Eventually, he added, additional improvements also will take place at San Luis I, among them upgrades to the pedestrian lanes to accommodate foot traffic.
A graduate of Kofa High School, Brooks got his start in law enforcement as a Yuma County sheriff's deputy in 1976, after having completing his studies in criminal justice.
Joining the U.S. Customs Service in 1983, he was assigned as an officer at the U.S. port of entry in Calexico, Calif.
In the 2003, Customs merged with the U.S. Immigration and Naturalization Service into CBP. Over the years, Brooks has served a variety of leadership posts with CBP or its forerunner, including as director of the ports of entry at San Luis and at Andrade, Calif.