YPG welcomes new commander as previous commander's career comes to an end
By James Gilbert, Yuma Sun staff writer | Posted: Thursday, June 19, 2014 10:00 pm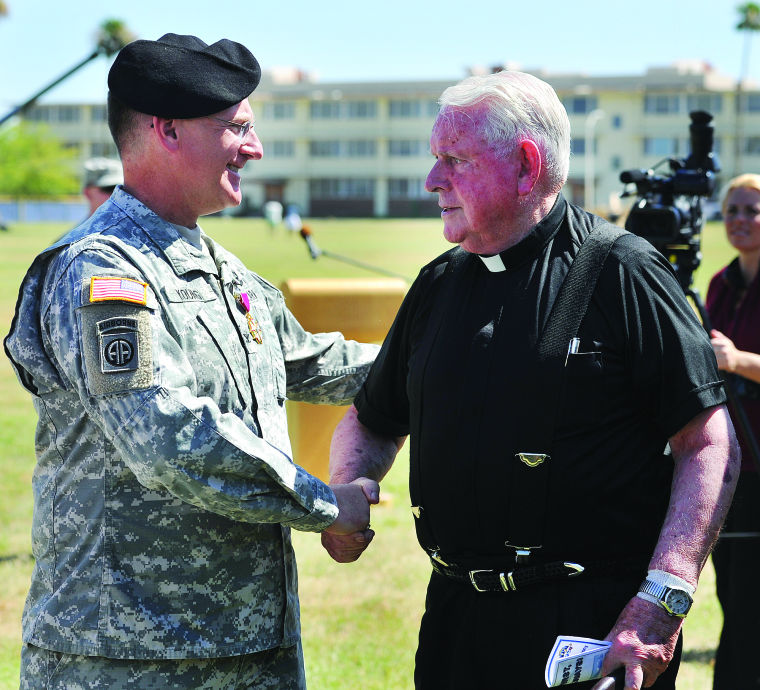 YPG Change of Command
U.S. Army Yuma Proving Ground's outgoing commanding officer, Col. Reed Young (left), shakes hands with Monsignor Richard O'Keefe following Thursday morning's change of command ceremony at Cox Field. Young was replaced by Col. Randy Murray.
YUMA PROVING GROUND — A new era in leadership is now underway at Yuma Proving Ground following a change-of-command ceremony on Thursday in which Col. Reed Young transferred command of the test center for the next three years to Col. Randy Murray.
"YPG could not have been a more rich environment. There is so much excellence here. A hardworking, dedicated, clever, patriotic workforce second to none," Young said. "Every hour of every day, you can see the toughest challenges solved with the smartest solutions and a concern striving toward perfection knowing that the results will have a significant impact on our nation's war fighters."
Held on the installation's Cox Field, Maj. Gen. Peter Utley, the commanding general of the U.S. Army Test and Evaluation Command, presided over the transfer-of-leadership ceremony while Command Sgt. Maj. Keith West and Command Sgt. Maj. Sean Ward oversaw the exchange of the installation's flag.
"Let me be the first to congratulate you on having done an outstanding, just a phenomenal job," Utley said. "You made a dedicated commitment to our Army, and today we thank you for your unwavering devotion to duty and steadfast service."
Utley went on to say, "Because of the type of leader you are and the commitment you made to the Yuma community and this command, your legacy of leadership has had a positive and lasting impact that will always be remembered."
Murray, who is a helicopter pilot, comes to YPG from Fort Eustis Virginia, where he served as the chief of the Capabilities, Assessment, Liability and Maintainability Division of the U.S. Army's Training and Indoctrinate Command.
"I'm humbled and honored as I stand before you this morning, humbled because the mantle of command is a heavy responsibility and one I take dear to heart," Murray said. "I'm honored to be part of such a great organization, with roots that spread back to World War II. I'm proud to be the commander of a test organization that has made such a profound impact on America's combat forces."
During his remarks Utley said it was a bittersweet day in that the base was bidding goodbye to one soldier of vision and great accomplishment and was welcoming another.
"There is no doubt in my mind you are the right soldier for the mission, and you are committed to meeting the commitment of testing equipment and material our soldiers will use when they are called by out nation," Utley said of Murray. "I wish you the best during your command and look forward to working with you every day."
Murray said he was excited to be returning to the Army's Test and Evaluation Command, where he served from 2004 to 2008, and praised the YPG workforce for their seemingly tireless effort and professionalism over the past decade.
"You are a group of extremely knowledgeable, experienced and dedicated personnel to our soldiers. Over the last 10 years, the proofs of YPG's work has insured the fielding of the most combat-effective systems, prevented battlefield casualties and helped insure success on the battlefield," Murray said. "These are truly outstanding accomplishments. We will continue with this high level of dedication and execution."
In listing just a few of Young's many accomplishments, Utley praised him for his vision as a leader and his accomplishments, such as YPG's successful completion of the Mine Resistant Ambush Protected vehicle (MRAP) storage facility, which led to the Joint Program Office choosing the base as the primary location for consolidating all of its test efforts.
Under Young YPG also took the lead in testing the conversion of the Stryker vehicle's flat bottom to a more survivable double-V hull design, which included over 18 months of durability and performance testing, earning the base the Army Acquisition Excellence Award.
The proving ground also successfully tested hardware and software upgrades to sensors for counter-rocket, artillery and mortars that were immediately sent to battlefields for implementation.
While these projects began before he arrived, Young also oversaw the completion and opening of the Candlewood Suites Hotel on base and the construction of the Military Free Fall School Vertical Wind Tunnel, which is one of the five largest vertical wind tunnels in the world.
The ceremony, which had a variety of military equipment and vehicles tested at YPG as a backdrop, also featured the music of the 62nd Army Band from Fort Huachuca, Ariz., and the firing of three field artillery pieces in a 13-gun salute.
The ceremony also served as way to honor Young, whose nearly 29-year military career was coming to an end. In addition to presenting him with a Certificate of Appreciation and the Legion Merit, Utley also presented Young with his retirement papers and an American flag.
Young's wife, Norma, was also awarded with an Outstanding Civilian Service Medal.