Walz resigns after 10 years at YRMC
By James Gilbert, Yuma Sun staff writer | Posted: Thursday, October 2, 2014 5:41 pm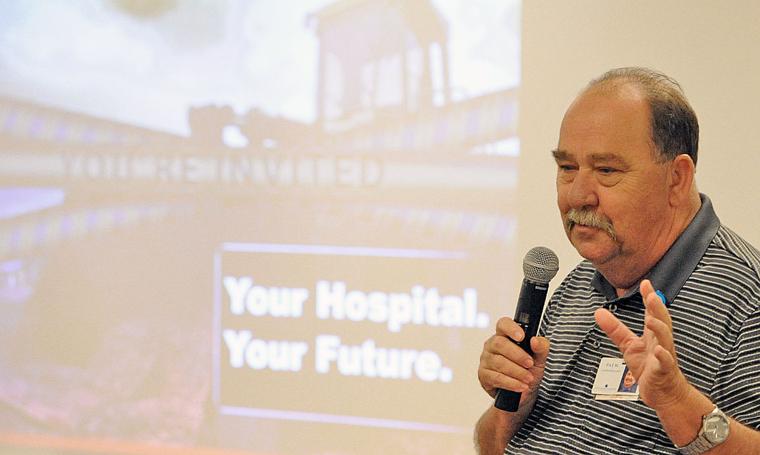 Pat Walz
In this file photo, Pat Walz, former president and chief executive officer at Yuma Regional Medical Center, talks about the multitude of projects the hospital would be undertaking during a media luncheon in June 2013.
After a decade on the job, Pat Walz, president and CEO of Yuma Regional Medical Center, has announced his resignation to focus on his recovery and rehabilitation following an extended illness, the hospital's board announced Thursday.
"Pat has positioned this organization on a very solid ground," said Jeff Andrews, YRMC board chairman. "Our focus now is on ensuring that we continue the journey."
Camie Overton, interim president and CEO, will continue in her current role as the board moves forward on the development of a full transition plan.
"We are highly confident that Ms. Overton and the entire YRMC team are well-qualified, stable and highly committed to meeting the challenges before us," Andrews said.
Overton, who worked alongside Walz for many years, also wanted to extend her appreciation and thanks, saying she admired his visionary leadership and commitment to the hospital.
"Pat's contributions leave us poised for future success. Pat has the utmost confidence in our Yuma Regional Medical Center team – our physicians, employees, volunteers, leaders and board," Overon said. "Pat believed in his vision, he believes in this staff, in this community and in our hospital."
The board said in a statement that Walz was known as a dedicated organizational leader and a respected community member who made a significant impact on the hospital and the Yuma community during his 10 years of service to the hospital, first as chief financial officer and then as president and chief executive officer.
According to the hospital board, Walz's vision and direction was to ensure Yuma Regional Medical Center's long-term benefit to Yuma residents and to focus on meeting the needs of the community. It was through his vision that YRMC built a solid foundation as a community health system, the board said.
Under Walz's leadership, YRMC established a strategic, 30-50 year plan that has prepared Yuma Regional Medical Center for the future, the Yuma Regional Cancer Center was completed, the new Emergency Department is breaking ground and the hospital campus was continuously evolving.
Walz's commitments to Yuma could also be seen outside of the hospital's walls. He served as chair of the Yuma County Chamber of Commerce and was on the board of directors for the Yuma Community Food Bank, Yuma Airport Authority, Arizona Chamber of Commerce and Arizona Hospital and Healthcare Association.
Walz is also recognized as a healthcare leader in Arizona and is well-known for his legislative efforts, along with state leaders and Gov. Jan Brewer, to expand AHCCCS coverage and served as an advocate for the Yuma community and its needs.