Teacher, Gowan Science Academy named finalists in STEM awards
By Sarah Womer, Yuma Sun staff writer | Posted: Saturday, November 1, 2014 3:27 pm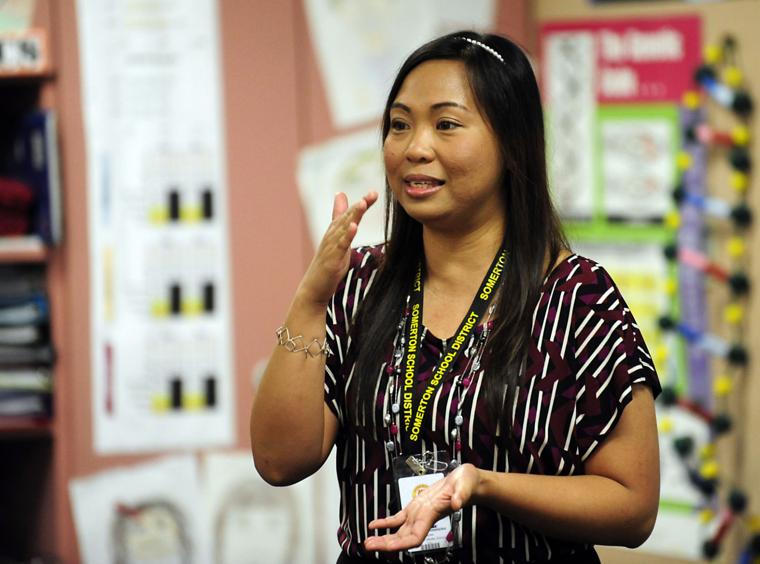 Cawley
Mary Ann P. Cawley, a STEM Teacher and Robotics Coach at Somerton Middle School, was selected as a Most Dedicated STEM Teacher finalist as part of the 2014 STEM Superhero Awards announced by the Arizona Super Bowl Host Committee.
An area middle school teacher and charter school were both named as finalists for the 2014 STEM Superhero Awards.
Recently announced by the Arizona Super Bowl Host Committee, Mary Ann P. Cawley from Somerton Middle School was recognized as a Most Dedicated STEM Teacher finalist and the Gowan Science Academy was a Best STEM School finalist.
A science, technology, engineering, and math (STEM) teacher at Somerton Middle, Cawley said that being selected for the program is "truly a blessing and an honor."
"I feel proud and excited to represent not only Somerton Middle School, but my incredible students who are the reason for my constant drive to enhance and perfect my craft."
Also a robotics coach on campus, her team of eighth-grade students earned their way into the FIRST Lego League World Festival in St. Louis in April based on their high score. In 2013, Cawley also earned the top recognition in the junior high/middle school category at the Teacher of the Year award ceremony and was selected as one of five teachers from Yuma to attend an Arizona Center for STEM Teacher Summer Institute at the University of Arizona's Biosphere 2 research facility.
She has been teaching for over 10 years and received her bachelor's degree from De La Salle University in the Philippines in 2001.
Cawley said that she is thankful that her administration saw the importance of adding a STEM class on their campus.
"It has definitely opened more doors to learning and my self reflection as an educator. When you enter my classroom, you see my students in an interactive environment where they embark to solve a challenge problem, and create an innovative solution," she said.
"As a STEM teacher, I simply hope to be able to positively affect my students, help them become innovators, logical thinkers, problem solvers, and collaborators, to prepare them to future careers."
Now in their second year of operation, Jamie Haines principal of Gowan Science Academy said that she is "grateful and humbled" that her campus was a finalist in the contest. She attributes the honor to the school's instructors, students, and parents.
"Gowan teachers, students and dedicated parents work incredibly hard every day and being recognized for this award is a great honor to their dedication and commitment to creating the first STEM school in Yuma County," said Haines.
"This award validates the work we are doing here at Gowan. To be recognized for our outstanding achievement at the state level is incredible."
Gowan Science Academy is the first district-sponsored charter school of the Crane Elementary School District. The campus opened in 2013 and shares a campus with H.L. Suverkrup Elementary School. While they started out offering first- through fourth-grades and have since added fifth-grade classes this school year, they plan to eventually become a K-12 school, adding a grade level each year.
Haines expressed her thanks to the Arizona Super Bowl Host Committee for putting a spotlight on STEM education and recognizing it as a beneficial endeavor.
"STEM education teaches children to be innovative, critical thinkers which will prepare them for careers in the future in fields that do not yet exist."
The Arizona Super Bowl Host Committee announced the group of 49 finalists in the categories of Most Dedicated STEM Teacher, Best STEM School, and Most Innovative STEM Club. The finalists will be recognized at an awards ceremony on Nov. 12, at the Arizona Science Center where two winners from each category will be announced. The victors will receive prizes such as grant funding and commemorative merchandise.
"There are many outstanding teachers and activities across the state that demonstrate effective and innovative ways to spark student interest in STEM and to help them master science and math content, opening many educational and career doors for them," said Tracy Bame, president of the Freeport-McMoRan Foundation, an award partner. "We want to help recognize those outstanding teachers and schools who are the everyday superheroes for kids in our state."