Somerton welcomes three new businesses
By Cesar Neyoy, Bajo El Sol | Posted: Monday, September 1, 2014 5:19 pm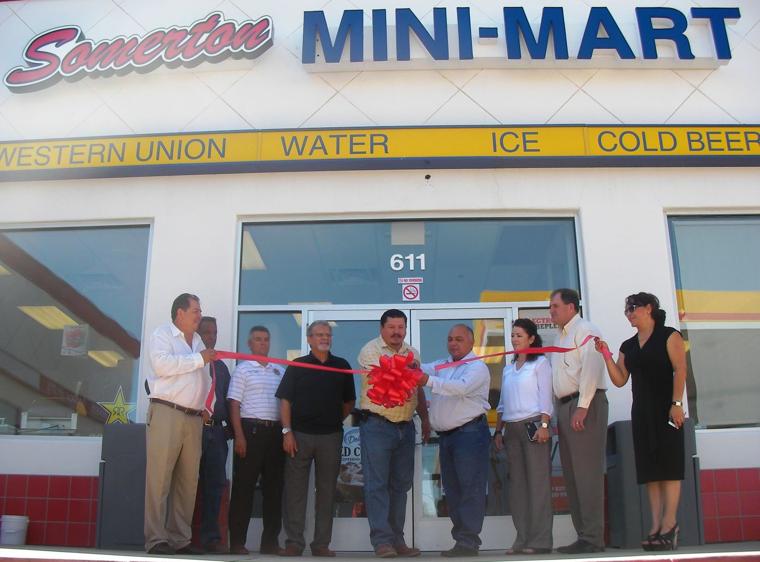 Open for business
Somerton Mini Mart celebrates its grand opening Thursday in a ribbon cutting ceremony.
SOMERTON – Three new businesses have opened in Somerton in recent weeks, raising hopes that the city is gaining the attention of potential commercial investors and enjoying an economic revival after a recession.
The first of the three was the O'Reilly Auto Parts store, which started operating June 28 but celebrated its grand opening Aug. 21. It was followed by openings Thursday of both Somerton Mini Mart and Remington Industrial Supply.
"It's very positive for us to be getting these businesses," said Mike Paredes, the city's economic development coordinator. "They are injecting economic vitality into the city."
Recent years have seen Somerton actively recruiting new business, both to afford its residents more shopping options and to diversify its agriculture-based economy.
"I think we are doing well," said Paredes. "But it's a huge job to make an economic case to attract new business, to be prepared to give investors convincing data about traffic, the level of education and average income of residents, transportation, proximity to other points of interest and other facts that they can take into account."
O'Reilly, a nationwide chain of auto parts stores, also operates stores in Yuma, the Foothills and San Luis, Ariz. The newly opened Somerton store at 305 E. Main St. employs 11 but is expected to add at least three more employees, said store manager Cesar Martinez.
"The response from the public (since the store opened) has been huge," he said. "People have been coming in constantly since we opened. They have been thanking us (for opening in Somerton), but on the contrary, we are the ones who need to thank them for coming in."
The Somerton Mini Market store also houses a gasoline station and an outlet of the nationwide chain Krispy Krunchy Chicken. The three establishments occupy a commercial lot on Main Street and Bingham Avenue that had been vacant for several years.
"It's a very good location," said Joseph Hennes, owner of the store and restaurant outlet who operates similar businesses in Kansas and Oklahoma, with plans to branch out into Texas.
"There are other gasoline stations a short distance away, but we have the advantage of having a restaurant and store in one location."
Investors in new businesses have found in Somerton a friendly and welcoming attitude on the part of the city, Hennes added.
"Somerton is a great community. City Hall's support for us coming here is among the best I've seen. They make it very easy to open a business."
Somerton Mini Mart opened with nine employees, but with the addition of the restaurant and gas station, will expand to at least 14, he said.
Remington Industrial Supply, located on the city's northeast side at 3425 W. County 15th St., celebrated its grand opening Thursday.
Employing seven people, it provides tools and supplies for welders, farmers and industry in general, but also carries products for the public.
"We thank Somerton. It is an incredible community, one that we feel a part of," said Larry Pikula, owner of the business. "We are a locally owned, locally operated business, and it pleases us to be able to help the city by providing sales tax revenue and serving the entire area from here."
Like Hennes, he said he was received with open arms by the city.
For Somerton Mayor Martin Porchas, the arrival of the new businesses signifies an economic rebound in Somerton. "And it proves that we have a policy of making it easy for business to come here."
He added, "We are a city that truly wants to work with businesses. We need them, we have to make it as easy as possible for them to establish themselves here."