Somerton hopes to attract call center
By Cesar Neyoy, Bajo El Sol | Posted: Monday, May 26, 2014 8:30 pm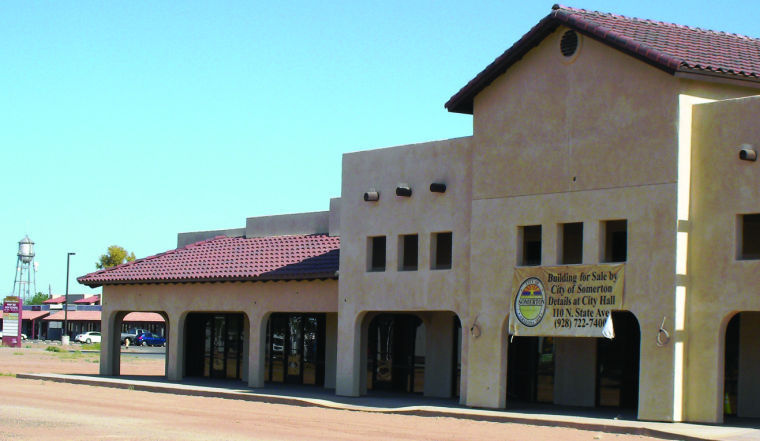 Empty building
The Somerton City Council is looking at the possibility of seeking a $900,000 loan to finance improvements to the interior of a building the city wants to lease to Convey Health Solutions for a call center.
SOMERTON – A long-vacant commercial building on the Somerton's east side could one day house a call center that city officials hope would create up to 200 jobs.
City Hall and Convey Health Solutions are negotiating the lease of the city-owned building for what would be the Convey's third call center in Yuma County, Somerton City Administrator Bill Lee said.
The 10,000-square-foot building has sat vacant and unfinished at 674 E. Main Street since the recession halted its construction in 2008. The city purchased the building in 2011 and later completed its stucco exterior, although work remains to be done on the interior.
Lee said negotiations could to lead to a contract for a six-year lease that would include terms for financing completion of the interior work.
Mayor Martin Porchas said a call center would mean an economic shot in the arm for his city.
"It's said that they could bring from 175 to 200 jobs," he said. "That is something that is urgently needed in Somerton and something for which we have been struggling and taking risks for a long time."
Convey, a Florida-based company that provides health care outsourcing and technology support for a variety of clients, already operates a call center at the former Target store location in Yuma, 725 W. 32nd St., and at 3150 S. Windsor Ave.
If the company chooses to move into Somerton, said Porchas, it will validate the council's decision three years ago to purchase the building and offer spaces inside to small businesses that, city officials hoped, would in turn create jobs for residents.
The decision came amid objections from two council members who argued that the purchase presented a financial risk for Somerton at a time of an ailing economy.
The city spent $315,000 to purchase the building from the original owner, plus another $169,000 to seal and stucco the exterior.
The city later decided to sell the building but got no firm purchase officers prior to entering negotiations with Convey.
The city's purchase of the building "is at the point of bearing fruit," said Porchas. "If we had not taken that risk, we wouldn't be talking now about the possibility of attracting hundreds of jobs."
Porchas praised the Greater Yuma Economic Development Corporation and Somerton's economic development coordinator, Mike Paredes, for their efforts in steering Convey to Somerton.
Porchas said he hopes a contract could be presented to the council for possible approval in the next few weeks.