San Luis unveils its business incubator
By Cesar Neyoy, Bajo El Sol | Posted: Friday, April 17, 2015 7:00 pm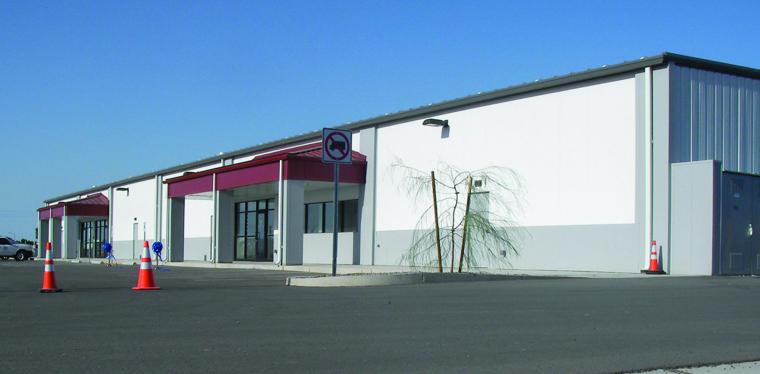 Business incubator
The city of San Luis hopes by offering rental space in the city-owned business incubator (seen here), it can help start-up businesses get established, in turn creating jobs in the area.
SAN LUIS, Ariz – San Luis will be both "audacious and aggressive" in efforts to court economic development, the mayor said as he and other officials formally opened a city-owned building here designed to house startup businesses and industries.
San Luis plans to lease space in the 20,000-square-foot building for up to six years at a time to commercial ventures that collectively can create at least 80 new jobs in the city.
Dubbed the San Luis Business Incubator, the building was recently completed at 415 N. Industrial Ave. with a $2.1 million federal grant from the Economic Development Administration, as well funds from a Community Development Block Grant distributed to the city by the state.
Economic development officials from around the area and state recently gathered in San Luis for a ribbon-cutting ceremony for the building, at which Mayor Gerardo Sanchez said the Arizona border city cannot wait passively for economic opportunity.
"In economic development we have to be audacious and aggressive," Sanchez said. "We cannot wait for the economy to improve for new businesses to come. We have to do our part to attract them."
The mayor said the incubator addresses what he described as a longstanding need by business prospects for suitable building space in San Luis to be able to accommodate their operations.
"When businesses came here looking for places to rent, there were only spaces that were very small or very large," Sanchez said. "These (in the incubator) are spaces for medium and small industry. This is going to raise interest in San Luis. With the incubator and industrial parks in development, we are going to have sufficient space for business and industry."
While the building was in the planning stage or under construction during the last couple of years, the city was working hard to promote and, indeed, has found six prospects as its first tenants, said Jenny Torres, the San Luis Community Development director.
"We are working with them; they are interested," she said. "We think we will be able to start with large businesses and the over the long term small businesses" will occupy the building. "We will open its doors so that residents can learn about the incubator and understand what it offers."
The building initially will be divided up into seven spaces of between 1,430 and 4,237 square feet, which initially will be leased out at a rate of 39 cents per square feet to businesses or industries that are just getting started. They will be able to occupy the building for up to six years, while they are getting established, after which they will have to move out to make room for new startups.
Torres said the lease rates are comparable to those charged in the community, but that the advantage to tenants of moving into the incubator is having access to technical assistance and training programs provided by the Arizona Western College's Small Business Development, the Yuma Private Industry Council and PPEP.
The incubator, she said, "will help people who have ideas (for commercial ventures) or businesses that are operating in a home, offering them a suitable place to get established and provide their services."