San Luis teacher honored with statewide award for his dedication
BY CESAR NEYOY, BAJO EL SOL | Posted: Wednesday, September 24, 2014 8:00 pm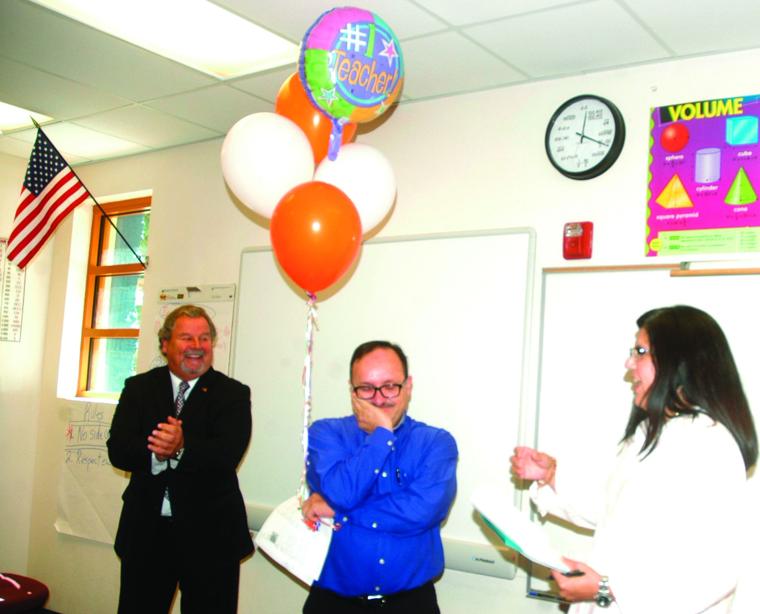 Teacher honored
Jesus Arrizon is caught off guard Monday as he is presented with the Esperanza award while teaching math to seventh-graders at Southwest Junior High School.
SAN LUIS, Ariz. – Jesus Arrizon was teaching math to 42 seventh-graders on Monday when the school's principal, other Gadsden Elementary School District officials and representatives of Chicanos Por La Causa interrupted the lesson in a surprise visit.
The occasion was the Esperanza award, presented annually by Chicanos Por La Causa to recognize outstanding Hispanic teachers around Arizona. Arrizon is the first teacher from the San Luis area to receive the honor from CPLC, a Phoenix-based non-profit organization that promotes economic development and education in Latino communities and neighborhoods in Arizona.
"I was very moved, and it gives me so much pleasure because everything I do is for the the benefit of the students," he said. "And I can't forget that the amount of the award is very good."
The honor, which takes its name from the Spanish word for "hope," is given to three teachers around the state annually and comes with a $5,000 cash award for the recipient and $2,500 for his or her school.
An educator for 13 years, Arrizon teaches math to seventh- and eighth-grade students at Southwest Junior High School and also teaches the subject at Arizona Western College. In addition, he devotes time to helping students in advanced math classes and those who participate in Johns Hopkins University's Center for Talented Youth, a program that allows gifted elementary and junior high school students to take university-level summer classes.
"He is one of the best teachers that we have. He is very dedicated," said Jose Luis Reynoso, Southwest's vice principal. "It was he who started the program with Johns Hopkins University 10 years ago, along with teacher Homero Chavez. Jesus Arrizon is a teacher who, like few others, has enormous patience and capability to motivate the students."
Arrizon said his goal always is to help students fulfill their academic potentials.
"I see these kids as engineers, as biologists, as mathematicians in the future," he said. "I believe that what we do is going to succeed in convincing them to continue their educations up to and through university. I tell them they can do it, that they can go to any university that they want ."
Maria Jesus Cervantes, spokeswoman for CPLC, said the organization began presenting the annual award "because Hispanic teachers in Arizona often don't receive recognition for their work in not only the classroom, but outside in the community."
She said school districts nominate teachers for the annual award and an independent committee made up of school superintendents, teachers around the state, past recipients of the award, and representatives of CPLC and other organizations selects the winner.