San Luis sowing the seeds for a bigger future
By Kevin G. Andrade Yuma Sun Staff Writer | Posted: Saturday, June 6, 2015 9:03 pm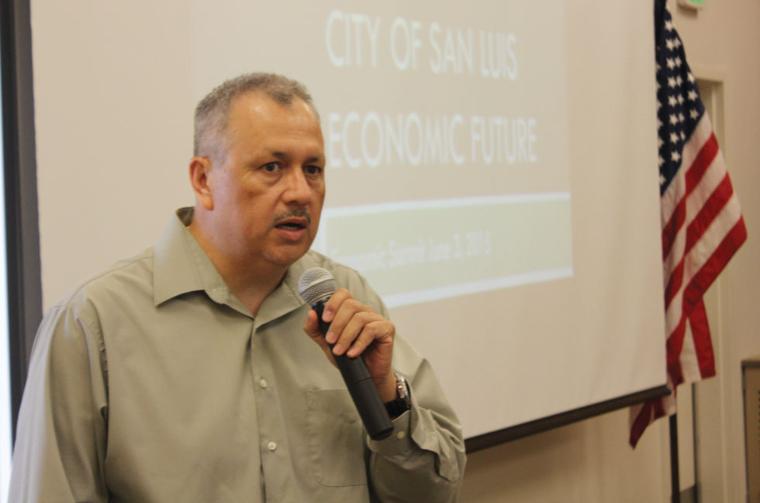 Mayor Jerry Sanchez
Mayor Jerry Sanchez of San Luis, Ariz., opens a conference on economic development with a few words on where the city has come from and where he hopes it will go.
San Luis, Ariz., has seen a lot of growth since the first Focus Future summit happened there in 2002. Now officials are looking to see how they can capitalize on that.
Prominent members of the community met at the San Luis branch of the Yuma County library for "A Focused Future II: Strategic Plan for Economic Development," on Wednesday, to discuss ways to encourage the city's growth.
"We discussed different focus areas and, at the end, everybody had a chance to talk about where they saw San Luis in the next five years," said Jenny Torres, community development director for the city of San Luis who helped put together the conference, which was sponsored by Arizona Public Service. "That gave everyone a chance to talk about education, economics, image, structure, and many other things."
Those present were encouraged to think about the San Luis area not exclusively as San Luis, Ariz., but also as San Luis Rio Colorado, its Mexican counterpart of over 150,000 residents.
While nowhere near the same size, San Luis has certainly grown, according to Mayor Jerry Sanchez.
"We have seen this town grow from 11,000 to 32,000," said Sanchez in his opening remarks. "The average age of a resident here is between 26 and 27 years old.
"We have to diversify and continue growing because those young people need jobs," he continued.
The 2013 estimate for the population of San Luis is 31,180, according to the U.S. Census Bureau, an increase of around 3,000 people since the 2010 Census.
One of the areas where San Luis is looking to increase revenue is tourism, to capitalize on the tourists travelling into Mexico.
"We need to promote places like El Golfo de Santa Clara like it is one of ours," said Yuma County Supervisor Tony Reyes. "People come through here to get to there and they need to buy gas, snacks, and other things."
Building a sense of civic pride and participation was also brought up as a point to work on.
"If there is pride, transparency and accountability, then we know where we stand," said Everardo Inzunza, associate dean of Arizona Western College. "And you most definitely want to increase accountability and retention in education as well."
In addition to this, there were several people speaking of a need to streamline licensing processes, with complaints of some businesses taking weeks to get zoning and licensing approval. Sanchez said that civic participation would go a long way in speeding things along.
"When there is a lack of participation, we can't get things done quick," said Sanchez. "I've been to city council meetings where I have counted only five people present who were not working for the city.
"We expect everything from government but we're not willing to participate in it," he continued.
There were also officials voicing support for the idea of one permitting process for all Yuma County businesses.
"There is a need for a more unified permitting process," said Kevin Wilkins, economic development administrator for the City of Yuma.
The greater emphasis of the day was on the city's relation to the greater area, including the City of Yuma and its Mexican neighbor.
"Our strength does not rely on any single community but on the region as a whole," said Wilkins, who was present at the meeting. "And when you compete for businesses nationally, you need to show what makes your region attractive, and our proximity to Mexico is one of our strong points."
Torres also spoke about capitalizing on the manufacturing sector locally, including the maquiladoras industry across the border in San Luis Rio Colorado.
"If a company comes into San Luis, Yuma or Mexico, we all get impacted by it," said Torres. "I think that the big manufacturing companies are going to continue coming into the Mexican side because of the lower labor costs but there could be spillover.
"There could be a requirement that part of a product be put together in the U.S.," she continued. "And that's an opportunity to bring a job here. … I don't think we're competing with them (SLRC) but working with them."
One of the big issues discussed that is obstructing growth is the possibility of physical land growth for San Luis.
The planning area under question contains 58,708 acres of land. Within those confines, 33,157 acres (50 percent) is owned by the Bureau of Reclamation, 2,045 acres (4 percent) is owned by the Bureau of Land Management and another 12,050 acres (21 percent) is owned by the state of Arizona.
A further 11,456 acres is privately owned (19 percent). Of that, 2,500 acres are already developed with another 2,100 open for development. The remainder is farmland.
According to Wilkins, the land could be used for industrial and residential use.
"I think there are two things that are counterintuitive but necessary in rural areas," he said. "One is the need for density to create a need for services.
"The other is that people don't think they have to offer a competitive wage in the Yuma area because of the unemployment number distorted by the migrant workers," he continued. "This leads people to believe that there is more labor available here than exists."
San Luis, however, is in a position to capitalize on its land and proximity to Mexico, Wilkins said.
"San Luis has a significant amount of industrial space in terms of land," he said. "Whether they have the infrastructure to support that is another question, but I believe that they are working on that."
There are currently two plots of industrial land being prepared in the area, according to Torres. But she also said that even though there is a lot of land available for such enterprises, the state and federal lands surrounding the city do present some physical barriers to growth.
"We're going to have a lot more industrial lands than the City of Yuma or even the county," said Torres. "We have a lot of land, but a lot of that land is owned by the federal and state governments.
"At some point, we need to be able to work with them so we can open this land for residential, commercial and industrial use," she continued.
Now that the ideas have been discussed, Torres said that it is now time for a strategic plan to be put together.
Sanchez said this is a good start and that change is coming to San Luis.
"In 10 more years, San Luis is going to be a very different place," he said.