Retiring Col. Young sees bright future for YPG
By James Gilbert, Yuma Sun staff writer | Posted: Tuesday, June 17, 2014 4:50 pm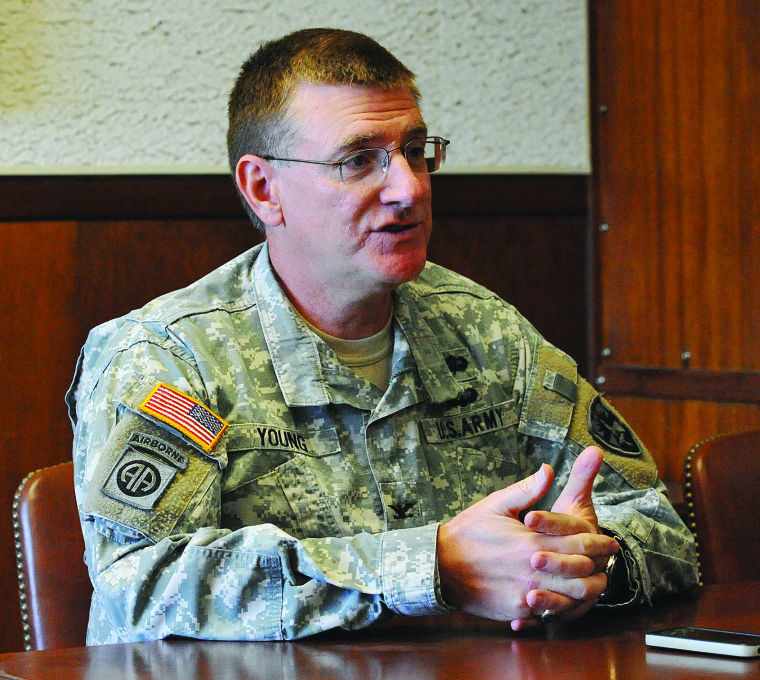 Young 1
Col. Reed Young talks about his three years spent as commanding officer at U.S. Army Yuma Proving Ground.
Now that his command at Yuma Proving Ground is almost over and he's getting ready to retire, Col. Reed Young said he is probably going to have to brush up on the two years of French he took in high school because his wife Norma wants to go to France.
Young explained that it has probably been a couple of decades since he and his wife took a really nice vacation, so his immediate plans include taking some time off so they can travel around Europe together after Young ends his 28-year career in the U.S. Army.
After vacationing, he added, they also plan to spend some time with family, but he will eventually look to start a second career. Although he isn't sure what or where it will be, Young, who has a doctorate degree in mechanical engineering, said he would imagine it would be a position in defense acquisition or even research.
Young will turn over command of YPG to Col. Randy Murray on Thursday.
Young says YPG will continue to be known for its excellence in testing in the future.
"I see nothing but goodness for YPG in the future. A lot of military installations can't say that. I know there will always be a requirement for testing, and within that I know YPG will continue to be the ultimate place to come," Young said.
Young praised the 1,500 military and civilian employees who work there, saying their work supporting the wars in Iraq and Afghanistan has been nothing short of remarkable.
"There are a lot of people who do a phenomenal job out here. So I just kind of get to sit back and watch a lot of wonderful things happen," Young said. "None of the things that happen at YPG would happen without the employees or the support of the community, so from the bottom of my heart, I want to thank them."
Young listed a number of reasons why he believes YPG will continue to be busy, such as changes in how some testing is conducted, having the infrastructure to achieve it and being able to accommodate some new test programs that have very aggressive and challenging technical problems.
Young also mentioned YPG's Military Free Fall School, saying that it is seeing a significant increase in the amount of parachute students who attend. Another significant addition, he said, has been the Master Sgt. George Bannar Jr. Vertical Wind Tunnel, because it enhances the training the students receive.
"You add all those things up, and I do feel pretty proud that as good as YPG was before, it is even a better place now after my tenure here," Young said.
When asked what he was most proud of, Young said it was that he felt he was successfully able to implement his command philosophy of "Mission First, People Always."
In terms of "Mission First," he said while the test and training missions may change, as long as YPG continues to offer great service at an excellent cost, the base will thrive.
When it came to "People Always," Young said despite sequestration, furloughs, a government shutdown and uncertainty with defense budgets, he believes the workforce was well taken care of.
"We have come down from our peak in terms workload and in terms of our budget, but within that we have been successful in garnering new business," Young said. "We have been successful in keeping people employed through cross training and implementing professional development in terms of folks going to Arizona Western College to pursue advanced degrees."
A self-described desert rat who enjoys hiking and four-wheeling, Young said he would miss living here.
"It has been a great three years. I'm really going to miss the people around here. The people are phenomenal," Col. Young said. "We have lived in a lot of wonderful places, where there has been a lot to do and a lot to see. But it is interesting in that whenever we have gone back to a place where we have lived, it always seemed like there was something missing. It just didn't seem the same."
He continued by saying, "And then pretty quickly, I realized the difference is the people. That a lot of times why someplace has been so much fun, so interesting and so rewarding, is not because of the things that are there, but because of the people we have had relationships with there."