Parkview honored, families enjoy film at YRMC ceremony
BY JOYCE LOBECK @YSJOYCELOBECK | Posted: Saturday, May 17, 2014 11:28 pm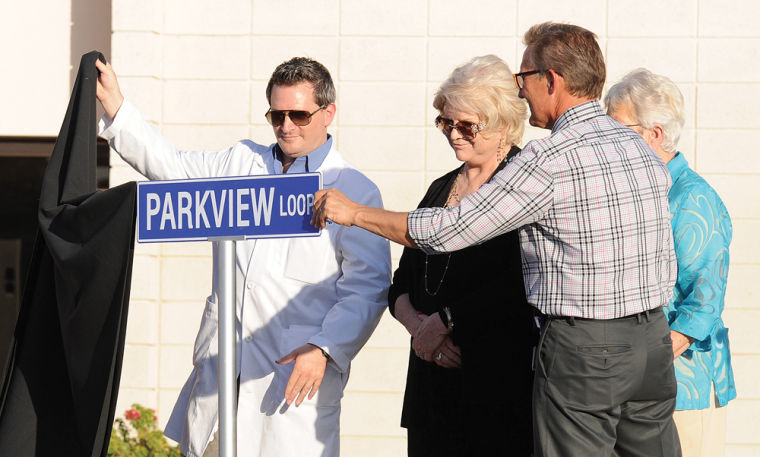 Here's the sign
Yuma Regional Medical Center officials (from left) Dr. Kirk Minkus, acting chief of staff, Patricia Ware, district board chairman, Jeff Andrews, operating board chairman and Maureen Irr, foundation board chairman, unveil the new Parkview Loop sign that will soon be part of the new ring road around YRMC, during Saturday's commemorative program.
As the sun sank in the west Saturday evening, families were staking out places for their lawn chairs and blankets in front of a giant inflated movie screen in anticipation of watching an outdoor 3D screening of the Disney Pixar movie "Up" in the parking lot of the east wing of Yuma Regional Medical Center.
The movie was shown as a two-part event to honor the history of Parkview Hospital, as YRMC originally was named when it opened its doors in 1958, and to celebrate the future of YRMC that includes the upcoming construction of a new Emergency Department on the hospital's original site.
"We chose 'Up' because of the movie's theme of adventure, resiliency and future," said Jenn Lotz, YRMC spokeswoman. "It is also a family movie, and since this is an event for our community, celebrated with our community, we wanted it to be a film all ages could enjoy."
And all ages were there, from young families to senior citizens enjoying a date night.
"It's a great movie," said Julie Engel, who was there with her family. "And it will be fun to watch it outdoors … it's like the drive-in. It's really cool to be outside on such a beautiful evening."
And, she continued, "it's neat to see the community come out."
Jennifer Jones was there with friends and their children to "enjoy a great family event and to support a great community." She's also excited about the planned new Emergency Department.
Denny Sette, who was there with a lady friend, said he came because he was curious about the "3D part and how it would be projected on the large outdoor screen."
But he also was drawn because it "is really a neat event and a fun thing to do on a Saturday night."
He, too, is looking forward to the new Emergency Department.
Also on hand were several Boy Scouts and their leaders, who were assisting with the event. And people could make grape soda cap badges like the one Wilderness Explorer Russell was given in the movie after being an accidental passenger when elderly Carl Fredricksen floats off in his house held aloft with thousands of balloons to explore the wilds of South America.
Showing of the 3D movie held a double meaning.
It also was the theme of the event: "Your Hospital in 3D: Dream, Dedicate, Deliver."
The new Emergency Department began with a dream by the hospital's visionary leaders, Machele Headington, vice president of communication and marketing for YRMC, said during a brief ceremony before the showing of the movie.
She noted that the dream was followed by hours of meetings and planning. "We began to see architectural renderings of the dream. And soon the two-dimensional image will become 3D reality as we start construction."
Getting to that point, though, as been a long journey and one that required a number of "make-way" projects to be completed first in order to be able to clear the site. With those projects completed or wrapping up soon, the final portion of the original Parkview Hospital will be demolished in the near future and construction start on the new state-of-the-art, expanded Emergency Department.
It is expected to be completed in 2016.
Dr. Phillip Richemont, chairman of the Department of Emergency Medicine, noted that the current ED was built to handle 30,000 patients and is now seeing more than double that number. "We really need space. But it's not just about space. It's all the people who work there and provide care."