New YPG commander proud to be base's new leader
By James Gilbert | Posted: Friday, June 20, 2014 5:30 pm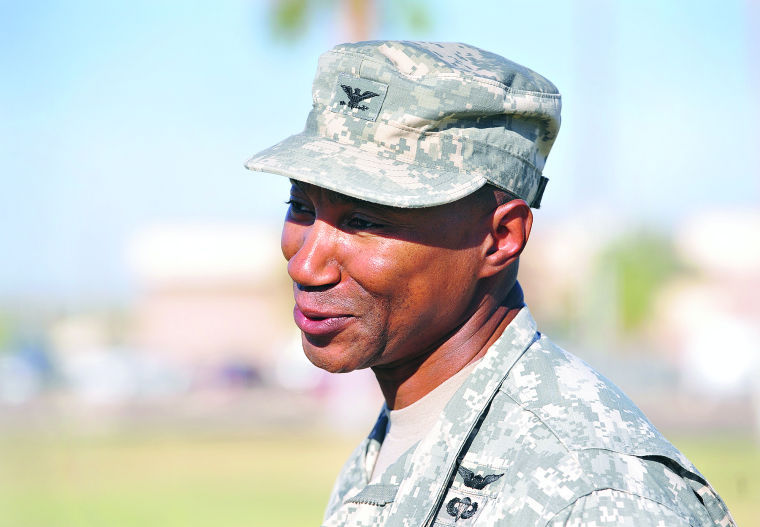 Murray 1
U.S. Army Yuma Proving Ground's new commanding officer, Col. Randy Murray, talks about his new command. Murray assumed command of the test station on Thursday.
Col. Randy Murray said he is very aware that U.S. Army's Yuma Proving Ground is renowned for the work it does testing virtually every piece of equipment in the U.S. military's arsenal, and taking care of the troops that use them will remain as the top priority under his command.
"My greatest expectation is that YPG continue it's world-class support to the soldiers by ensuring we deliver the best, most capable systems that we can, with the resources that we have available," said Murray, who arrived at the installation last week.
A 24-year veteran of the Army, Murray said he is looking forward to being the installations commander for the next three years and appreciates the support he has already received from both the uniformed soldiers and civilian employees on the base as well as from the community.
"From a personal perspective, it is a great honor," Murray said of being selected to be YPG's commander. "Very truly a great honor, because I take command very serious, and for the nation and our leaders to have chosen me for this opportunity, I'm really humbled."
Murray assumed command of Yuma Proving Ground from outgoing commander Col. Reed Young during a change of command ceremony Thursday morning on the installation's Cox Field. The ceremony was presided over by Maj. Gen. Peter Utley, the commanding general of the U.S. Army Test and Evaluation Command.
A helicopter pilot, Murray comes to YPG from Fort Eustis Virginia, where he served as the chief of the Capabilities, Assessment, Liability and Maintainability Division of the U.S. Army's Training and Indoctrinate Command.
This isn't Murray's first time at YPG. He said he first came here in 2006 while assigned to U.S. Army's Test and Evaluation Command and spent four days observing testing of new technology to counter improvised explosive devices (IEDs).
"I was on my way to Afghanistan," Murray said.
Murray, who actually arrived in Yuma last week, said he also visited the installation back in March in preparation for assuming command. While here that time, he said, he met with staff, toured the facility and met with community leaders.
"It is an excellent place to come and command," Murray said. "I'm looking forward to becoming an part of the community. I think it is going to be great."
While change is often inevitable, Murray said he intends the first month or so of his command assessing the installation, and becoming more familiar with it, before he starts making any long-term plans or issuing any major directives.
"From what I can see, the command is already on path and is doing some great things for the community and the soldiers," Murray said.
One thing that Murray said has already been instilled upon him is the installation's relationship with the community and how vitally important the U.S. Army considers it to be.
"I have been hearing some great things about how supportive the community is and how much they really care about this installation," Murray said. "And from what I have seen within the past week, I think that is a true statement."
A native of South Carolina, Murray is married and has two children.
"It is going to take a little bit of time to get acclimated to the weather," Murray joked. "Obviously it is a bit cooler on the East Coast than it is out here."