New director appointed for Sanguinetti House Museum
By Joyce Lobeck, Yuma Sun staff writer | Posted: Sunday, July 13, 2014 3:47 pm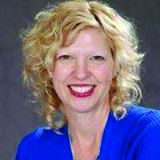 Yanna Kruse
Longtime Yuma resident Yanna Kruse has been appointed by the Arizona Historical Society to manage the Sanguinetti House Museum and Gardens as the new director of the Rio Colorado Division.
The museum, located in the historic north end of Yuma, is in an 1870s adobe building that at one time was the home of early-day prominent businessman E.F. Sanguinetti and his family. It also has extensive gardens. Period rooms in the museum feature historical images of Yuma and the people who have made the community at the Colorado River Crossing what it is today.
As the former vice president of marketing for AEA Federal Credit Union, Kruse brings more than 20 years of promotional and marketing experience to her new position. She has a bachelor's degree in communications from the University of New York at Buffalo.
"The Sanguinetti House Museum is a Yuma jewel," Kruse said. "I am thrilled to be part of the team that treats visitors to a journey back in time to experience Yuma's rich history that includes the storied life of E.F. Sanguinetti."
Bruce Gywnn, a descendant of Sanguinetti who serves on the boards of both the AHS Rio Colorado Division and the Yuma County Historical Society, is delighted to have a new division director after several years without one. And he is pleased with Kruse's selection.
"She is very qualified," he said. "She brings marketing and organizational skills, drive and energy. She's someone who will build it up and not just maintain it. She also brings a lot of expertise with marketing. It's one thing to have all the exhibits and another to get people to come see them."
The Sanguinetti House Museum and Gardens is located at 240 S. Madison Ave. and can be reached at (928) 782-1841.
General admission is $3, or $2 for those 60 and older and ages 12-18. Ages 11 and younger, all veterans and all Arizona Historical Society members receive free admission.