New commander takes charge of YPG's Yuma Test Center
By James Gilbert, Yuma Sun staff writer | Posted: Thursday, June 5, 2014 6:17 pm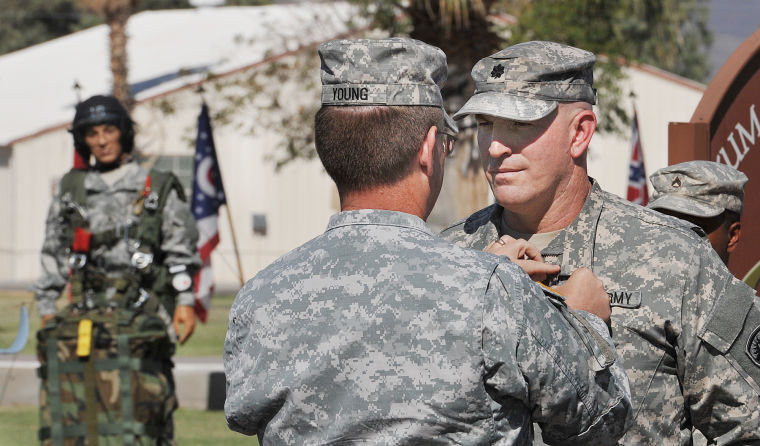 Test center 1
Under the watchful eyes of a U.S. Army paratrooper manequin, U.S. Army Yuma Proving Ground commanding officer Col. Reed Young (center) pins a Meritorious Service medal on outgoing Yuma Test Center commander Lt. Col. Chad Harris during Thursday morning's change of command ceremony at YPG. Harris was replaced by Lt. Col. James DeBoer.
The U.S. Army Yuma Proving Ground's Yuma Test Center (YTC) welcomed a new commander and bid farewell to its former commander Thursday morning during a change-of-command ceremony held in front of the installation's Army Heritage Center Military Museum.
In front of a small audience of military leaders, YTC and YPG employees, family, friends, and well-wishers, Lt. Col. Chad Harris passed the organizational colors to Col. Reed Young, who presided over the ceremony, to signify a successful completion of command.
Col. Young in turn then passed the colors to Lt. Col. James DeBoer, the incoming commander, charging him with the responsibility for the unit as its new leader. Bouquets of flowers were also presented to DeBoer's wife and two young daughters.
Also as part of the ceremony, Lt. Col. Harris was presented with the Meritorious Service Medal. When he arrived at the YTC in 2011, it was in the midst of its busiest year ever, and it continued to be the busiest test center in the Army for the next two years.
"As the test center's command, Lt. Col. Harris deserves a double measure of credit. He impressed everyone, superiors and subordinates alike, with his steady hand, thoughtful contemplation, and absolutely decisive action," Col. Young said. "He proved to be a skillful manager with the ability to attain and maintain a very, very high standard of performance and excellence."
Under the three years of Lt. Col. Harris' leadership, the YTC was the busiest test center in the U.S. Army, accounting for nearly 7 million direct labor hours. Although one of several test centers, the Yuma Test Center accounted for nearly 25 percent of the Army's Test and Evaluation Command's total workload.
Also under his tenure, the YTC's team of military, civilian and contract employees safely and successfully executed more than 2,300 developmental, production and acceptance tests, issued nearly 300,000 range clearances to more than half a million personnel, drove over 832,000 miles in wheeled and tracked vehicles, fired close to 1.2 million rounds of ammunition, air dropped over 8.5 million pounds of cargo, conducted over 1,300 parachute jumps, flew more than 7,000 unmanned aerial systems missions, and tested every type of improvised explosive device countermeasure in the Army.
In addition to all of the testing, the YTC's Range Scheduling and Training Exercise Management Office supported the training of over 10,000 military personnel, safely fired nearly 2.5 rounds of ammunition, conducted over 105,000 military freefall parachute jumps, conducted 70 military working dog classes, and completed 18  special operations terminal attack controller close air support courses.
Col. Young added that the YTC, while under Harris' command, also had to deal with its fair share of challenges, ranging from budget uncertainties, sequestration, pay freezes, furloughs, restrictions on overtime and the government shutdown, yet continued a course of excellence due to superb leadership and management competence.
Harris, in his remarks, also took a moment to praise the workforce by offering a heartfelt thanks to them for the work they do.
"I want to say thank you publicly for the exceptional work ethic you demonstrate throughout the year," Harris said. "Your work is vital to our armed forces and vital to the strength of this nation."
He then took a moment to address his replacement, Lt. Col. DeBoer, saying while Yuma is miserably hot during the summer, he was never going to find a community with better people who are dedicated to the armed forces and the mission of Yuma Proving Ground.
"The people in the community embraced our family, and we are better having served here for three years in this great community," Lt. Col. Harris said. "As I look back, I would not change anything, and I'm proud to have commanded this great organization. It has been an honor and privilege to serve here at YTC."
Col. Young also welcomed Lt. Col. DeBoer to his new command by saying he comes to the YTC with a reputation for excellence that is built on impressive experience, demonstrated leadership skills and an exceptional technical competence.
"(DeBoer's) commitment to the goals and ideals of the Army are without equal, and he is admirably suited to build on the superior achievements of the test center," Col. Young said.
In the brief comment he made, Lt. Col. DeBoer said being selected to be the commander of the YTC was an amazing and humbling experience.
"It is truly a honor to take command of the Yuma Test Center. You can not ask for a better group of soldiers and civilians to work with," Lt. Col. DeBoer said. "I'm looking forward to serving with all of you. I have some big shoes to fill."