NAU-Yuma Associate VP Gould steps down
By Sarah Womer, Yuma Sun staff writer | Posted: Sunday, August 17, 2014 4:10 pm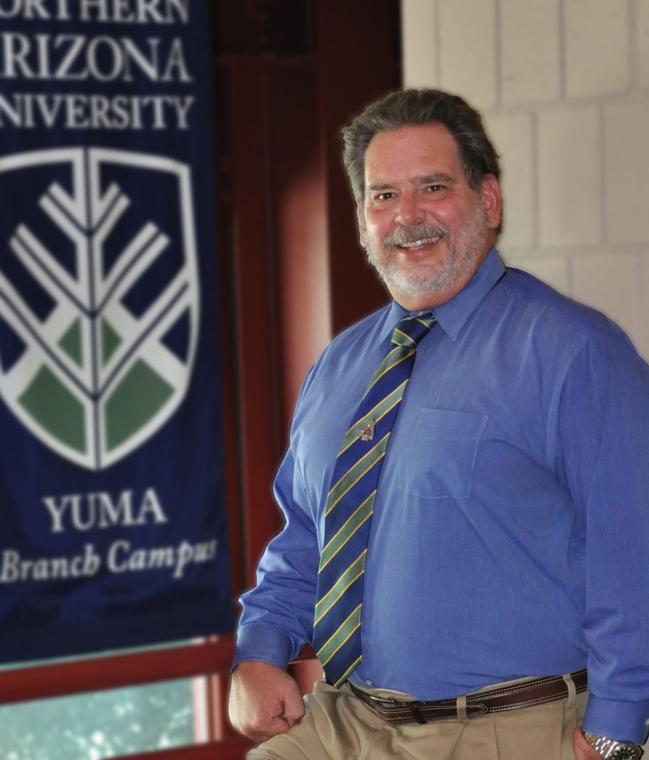 Larry Gould
Larry Gould recently retired for Northern Arizona University – Yuma after a number of years of service to the local university. He retired as the associate vice president at NAU-Yuma.
Larry Gould recently retired after working with students and staff at the Northern Arizona University Yuma branch campus for the last 20 years.
Serving in many capacities, most recently with the title of associate vice president at NAU-Yuma for over six years, his goal was to make the Yuma campus autonomous and self-sufficient, functioning apart from the NAU main campus in Flagstaff – and he succeeded.
When he first began working with NAU-Yuma in 1992, he said that every curriculum, department and faculty member reported to the Flagstaff campus, with the exception of the business department.
"So I started immediately to separate us from the Flagstaff campus and create a curriculum that met the needs of not only Yuma students, but students who lived around the state of Arizona. We service students from Yuma, all over the state. Over 3,000 students take their courses and graduate from a degree program that is singular to the Yuma branch campus, not the Flagstaff campus," Gould said.
"Today there are no programs on the Yuma campus with direct ties to programs on the Flagstaff campus, and that was my goal."
Through that work, NAU-Yuma has the only Social Work program in the nation that has a Hispanic, border issues, military and migrant worker focus. Next, they're working to develop a pathway for people to receive their master's degree in Social Work as well.
"That's going to be huge for the region, but we will also be sending these courses via the Internet to other students possibly in other states."
Additionally, NAU-Yuma has been able to provide a special tuition rate to U.S. Border Patrol agents, regardless of their location in the world, so that they can take all their coursework online and receive a bachelor's degree in Intelligence Studies, Public Administration, or Law Enforcement.
"Very soon, those who wish to do so, will also be able to get a master's degree," he added.
"My first career was in law enforcement, so I have a special interest there, but my big interest is to ensure that simply because you happen to live in a rural area, or a semi-rural area, or an area where there's no university, my goal was to ensure that you had access to a college education; that's what I committed myself to."
Under his leadership, staff and faculty also worked to get the Business program accredited three years after it was created and the Education program was also accredited by the Arizona Department of Education with accommodation.
Before serving as the associate vice president for NAU-Yuma, Gould taught televised classes from NAU Flagstaff to students in Yuma.
"So my first real exposure to Yuma was through television, because I taught two courses that were sent to Yuma as well as other sites throughout the state," he said.
Gould explained that the university encouraged instructors to make at least one visit to each site to meet with students and interact with them. He remembered being flown to Yuma and being driven down a then-vacant 32nd Street, down to Araby Road, and onto a tiny two-laned 24th Street to get to the college.
"The roads kept getting smaller and smaller and finally we got to campus and we didn't even have a building, all the faculty were kind of stuffed into one large room with cubicle desks," he said.
"I came down to Yuma that semester two more times, because I really liked the students and I liked the environment, never thinking that one day I would be living there."
As the Yuma campus began to grow, Gould stayed in close contact with the local staff as the chair of the main campus' faculty senate and as the president of the Arizona Faculties Council, which organized all four faculty senates for the NAU branches that existed at the time.
"I spent a lot of time in Yuma, because we had quite a few faculty there and I didn't want them to feel like they were left to the hinterlands. For two years I came down pretty regularly and when I finished doing that I became the liaison for the department of Criminology and Criminal Justice, to all of our statewide students and faculty," he said.
He was then named associate dean of Social and Behavioral Sciences for NAU, where one of his jobs was to maintain a strong connection with the faculty of the Yuma campus.
Then in 2008 he was offered the job of associate vice president at NAU-Yuma, which he accepted even though it meant being five hours away from family as his wife is the chair of the Criminology department at the NAU Flagstaff campus. He recalled her telling him that if he didn't accept the job, she knew he would spend the rest of his life regretting it.
"And so she's the one who really encouraged me to go to Yuma and try to make a better life for the faculty, the staff, and most particularly to offer access to higher education for students," he said.
"I picked up, moved to Yuma and I met so many wonderful people in Yuma. I've lived in a lot of different places, but the best place that I have ever lived, in terms of quality of life and commitment of the community people to making a better city, has been Yuma… It's a real community of partners… I'm going to miss Yuma, I really am, I'm going to miss the people. These are some of the greatest people in Arizona."
He recently moved back up to Flagstaff to be with his family, but he said that they plan to travel back to Yuma often, especially during the winter months.
"My insurance agent is in Yuma, my lawyer is in Yuma, my investment manager is in Yuma, my web guy is in Yuma… and these are people who I've come to not only trust, but love in that kind of way that goes beyond just a business relationship, so I'm going to be back and forth to Yuma."
Gould will also be taking time to pursue his first love – teaching. He is scheduled to teach a few courses at Coconino Community College in the fall. He's also opened up a small cabinet shop to pursue his hobby of woodworking.