Marines to hold disaster relief exercise in Yuma
By James Gilbert @YSJAMESGILBERT | Posted: Wednesday, October 8, 2014 9:19 pm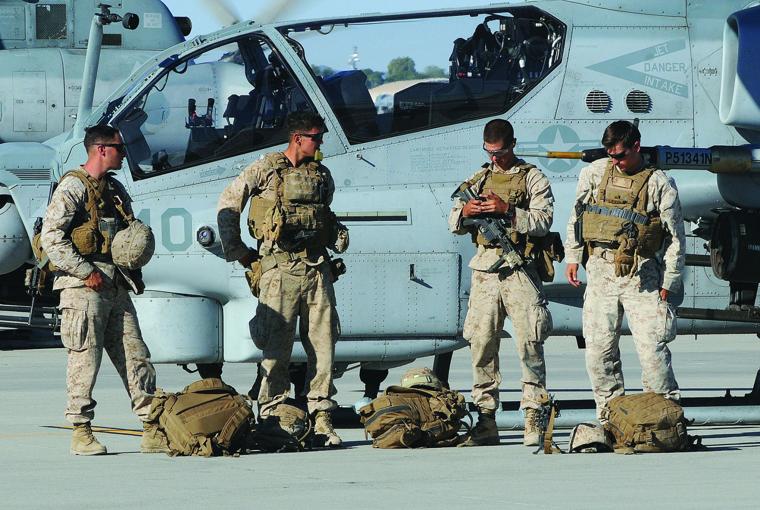 WTI ready
U.S. Marines get their gear ready moments before boarding a UH-1 assault/support helicopter on the flight line at Marine Corps Air Station Yuma, during a Weapons and Tactics Instructor Course (WTI), humanitarian assistance exercise in 2013.
Once again Yumans will have a front-row seat for an urban exercise that will provide Marines with realistic training on how to conduct an operation similar to one they might encounter while deployed.
As part of this fall's Weapons and Tactics Instructor (WTI) Course, a simulated foreign humanitarian evacuation operation will be conducted Oct. 10 at Kiwanis Park, Trinity Christian Center, Crane Middle School and Yuma Regional Medical Center.
WTI brings Marine aviators from around the country to Yuma twice a year for some of the most realistic training possible in advanced aviation tactics, techniques and procedures.
Under the training scenario, a friendly host country will ask for assistance from the American military in response to a natural disaster.
A simulated refugee camp will be set up at Kiwanis Park where an emergency medical team will be inserted. Casualties will be evacuated to a field medical camp set up at Trinity Christian Center, a key part of the evening's exercise. Others will be transported by helicopter to a medical center, portrayed by YRMC.
Meanwhile at Crane Middle School, other Marines will be assessing whether to set up a second refugee camp.
The simulated humanitarian evacuation operation provides WTI students with realistic training consistent with missions they may well encounter while deployed as natural disasters strike around the world.
Spectators are encouraged to come out and watch the action at all the locations. For their personal safety, they should follow instructions and directions of local authorities and exercise personnel. No ordnance will be carried on the aircraft or by any personnel involved the exercise.
The training exercise will get underway at about 5 p.m. with waves of helicopters landing at Kiwanis Park simulating the insertion of a security force and medical personnel to provide aid to "refugees."