Last day 'bittersweet' for Yuma Sun Publisher Joni Brooks
By Darin Fenger, Yuma Sun staff writer | Posted: Friday, August 15, 2014 10:30 pm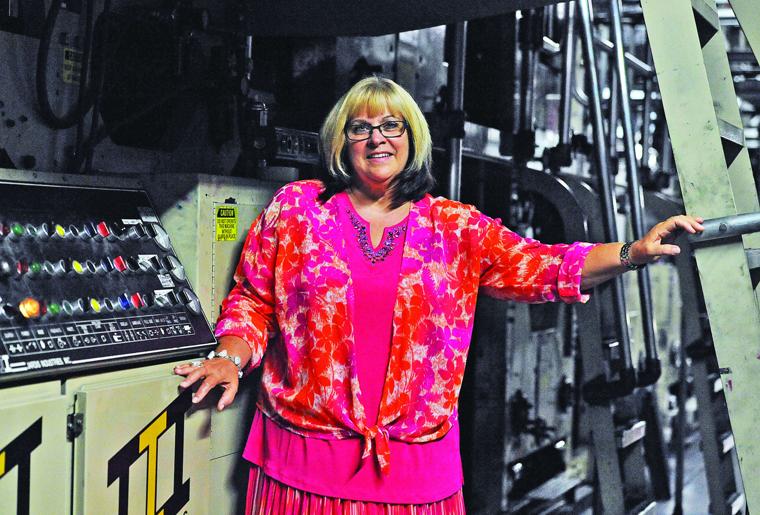 Joni Brooks
After spending six years as publisher of the Yuma Sun and its ancillary products, Joni Brooks has taken a publisher position in Oklahoma City, managing business publications for The Dolan Company.
Yuma Sun Publisher Joni Brooks isn't just leaving a job at the helm of a Yuma institution. Brooks says she is sad to be leaving a much-cherished community.
Brooks recently announced that she has been hired by a publishing company in Oklahoma City. Friday marked her last day as the leader of the Yuma Sun.
She explained that with commitment to readers combined with community involvement, a good newspaper publisher's heartstrings extend far past the walls of their newspaper.
"It's bittersweet to be leaving Yuma and the Yuma Sun, of course," Brooks said. "As I said in my (recently published) First Take, Yuma has become another 'hometown' for me. There are people in the office and in the community who have become great friends, and I will miss them, but we'll stay in touch."
Brooks stressed that whether working in the advertising department in her earlier years or working as publisher in more recent years, she has always enjoyed getting involved in the community served by each newspaper.
"I strongly believe that the newspaper plays an important role in telling the story of a community each day, and that means becoming part of the community, being involved in various groups and organizations to gain knowledge and participate fully," she said.
In Yuma she served on the boards of the Greater Yuma Economic Development Corp. and Amberly's Place, along with involvement in the Yuma Executives Association.
"I also enjoyed interacting with many members of the Yuma Rotary Club and being involved in the Yuma County Chamber, Yuma Visitors Bureau, the Healthiest County initiative and working with the city and county officials," she said. "People here really care about each other, support each other and give generously to many worthy causes."
Through that involvement, Brooks came to know many other professionals committed to their community, a mutual dedication that never failed to impress her.
"There are truly amazing professionals all over Yuma County who are committed to doing their best to improve education, healthcare, business or whatever field they're working in," Brooks said. "It's also important for everyone in the newspaper to have those outside connections in the community. We hear about great story ideas and bring those to the editorial department, and we want the community to know that we live, work, raise our children and spend our money in Yuma, just like everyone else."
Brooks came to the Yuma Sun in 2008, taking the leadership role last filled by Julie Moreno.
The Iowa native brought with her 30-plus years of experience in the newspaper industry. Prior to Yuma, Brooks lived in Seneca, S.C., where she served as publisher of The Seneca Daily Journal and Messenger.
"What I've enjoyed most is working with the team here to grow and expand our portfolio of products, publications and websites to reach different audiences for readership and for businesses marketing to those audiences. While doing that, we've still been focused on being the best daily newspaper we can be for the market," she said.
Brooks' time at the Yuma Sun, however, has coincided with challenging times for the U.S. economy and for the newspaper industry itself.
"Like many businesses, we've learned to do more with less, but we have a very strong team of talented people who make it happen every day. It's been a challenging time, but we have continued to produce the county's largest information source while growing our niche publications and websites," Brooks said. "People forget that we produce a brand new product each and every day, and it takes about 16-18 hours to make that happen. It's a daily miracle!"
For Brooks, it's important for the community to realize "how fortunate they are" to have a daily newspaper of this size operating here. "It takes the support of the business community and subscribers to make a newspaper operation successful, and our team is grateful for that support. Don't take local news for granted. What you read on your search engine doesn't come from Google or Yahoo or Bing or anyone else; it comes from the reporters who write the stories for the Yuma Sun."
Over its more than 140 years, the Yuma Sun has published under the guidance of countless leaders.
Brooks says she is confident that a strong publisher will be found for the newspaper, which she stressed remains in good hands with its qualified managers and directors.
"All of the leadership of the newspaper has been here … some up to 35 years or more," she said. "They know and love this community, and they will continue to publish and deliver the history of Yuma County for many, many years to come."
The company that owns the Yuma Sun announced Friday that long-time directors David Fornof and Lisa Reilly have been named interim co-publishers. Reilly currently serves the Yuma Sun as director of advertising, while Fornof serves as director of production.
In Oklahoma City, Brooks will serve as a publisher for The Dolan Company, managing The Journal-Record Publishing Company.
But her "hometown" in the desert will truly never be far from her heart.