Job seekers descend on civic center
By Blake Herzog @blakeherzog | Posted: Wednesday, October 8, 2014 11:07 pm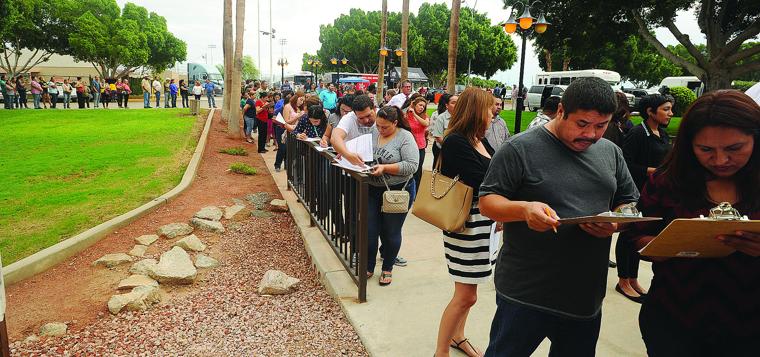 Lining up
Those attending Wednesday's Community Job and Education Fair line up outside Yuma Civic Center before the doors to the event opened.
About 1,650 job seekers converged Wednesday for the second Yuma Community Job Fair, hoping to be paired off with one of approximately 1,700 open positions.
The figure recorded by the fair's organizers was below the 2,000 or more people expected, after 2,014 were recorded last year, said Marco Garcia, regional director of workforce development for Goodwill of Central Arizona. An improving economy and greater availability of jobs could be why attendance wasn't higher, he said.
"I can't think of any other reason why we would have (fewer) people," he said. Garcia said Goodwill's job placement numbers for this year in Yuma are already higher than all of 2013 with almost 3,800 clients hired.
Seventy-five employers set up tables at the Yuma Civic Center, with four agricultural companies accounting for about 800 of the open positions, Garcia said. Thirty schools and service organizations were also on hand to provide information.
Goodwill and Yuma Private Industry Council joined forces for the second year to hold a unified job fair to serve an area with chronically high unemployment rates. Yuma County's August jobless rate was lower than July's according to state figures, but was still 28 percent.
"We used to have six or seven of these a year, and employers would get confused about which one we should go to, which one would work best for us, so we decided to just hold one big one," Garcia said.
Though the lower-than-projected attendance may signal good news for the local economy, the parking lot at Yuma Civic Center was well over half-full by the time the fair began at 9 a.m.
Farm workers were asked to form a separate line, and were funneled into the center's east wing to fill out applications for the packing jobs. The queue began at an interior doorway and wound through hallways before spilling outside, where it was so long it started drawing people who were looking in other fields, and figured it was the only way in.
"I can't believe there are so many people here, trying to get out of the fields," said Samuel Alatorre, 20, who said he'd worked in the melon fields all summer and was hoping to be able to get one of the less physically demanding jobs.
The crowds didn't come as a surprise to Ron Frasier of Yuma, an Army veteran who's lived in the area since 2003 and is looking for possible part-time work as he completes coursework for a sociology degree from Grand Canyon University.
"I almost feel like I shouldn't be trying to apply for a job because there are so many people who are looking, because they need to work to feed their families, and I can get by with my retirement," he said. "But I do it anyway."
He was walking through the Yuma Room, where non-agricultural companies from the retail, hotel, healthcare, education, government and other sectors had set up displays at tables similar to other types of business fairs.
Some representatives manning the tables were able to take resumes and forms on the spot, while others referred people to online application processes, including federal entities like the Bureau of Reclamation and Tucson's Western Passport Center.
"Here is a list of the jobs that are available right now, but they can change from day to day," Marty al-Samarai, who sat at the Yuma Proving Ground table, told one woman. Typical positions include engineers, technicians and data analysts, but everyone had to apply through theUSAjobs.gov website.
Participants had varying takes on how worthwhile their time at the fair was turning out to be. "I thought it was going to be more helpful," said Maria Barrientes, who's been in the job market since losing a babysitting job two months ago. "I thought there were going to be more managers, and we would be able to talk to the manager who's able to hire."
Rebecca Lizarraga has been trying to find clerical employment since June, after working as a teacher's associate, then getting a degree from Arizona Western College. "It's been challenging, but I'm staying with a positive attitude," she said.
She said she's especially grateful for the help she got from Goodwill when she went into their offices on Tuesday, having toiled all weekend over her resume. She went through an employment workshop and was given some clothes to wear for interviews, including a tailored purple blouse she wore to the job fair.
"I'd love to work for Goodwill, but I know they really don't have any openings," she said.
Richard Pihlman sat and smoked a cigarette before going into the center to look for a restaurant or retail job, saying, "I really don't smoke, but being out of work drives me bonkers."
He said he's been staying at the Crossroads Mission shelter for the last two weeks, after leaving Yuma for the summer to travel with a carnival, putting together and taking apart rides. He got to travel and his hotel rooms were paid for, but it only paid $300 a week and was charged inflated prices at the "factory store," he said.
He's owned and managed businesses before, but is now just trying to get back on his feet.
Pihlman, 49, described himself as an entrepreneur, and said it's difficult for anyone to land the kind of long-term, full-time employment that was more the norm in the past.
"People will hire you, but for less than 30 hours a week because they don't want to pay for insurance," he said. "So a lot of people are holding down two and three jobs to make it. I just want a part-time job, to prove that I have something to offer."
Other participating agencies at the job fair included Achieve Human Services (which was holding its own fair for people with disabilities), Marine Corps Air Station Career Resource Management; Yuma Proving Ground Workforce Development, DES Employment Services and Veteran Services, Greater Yuma Economic Development Corp and AWC.