GYEDC touts benefits of local JTED
By Sarah Womer @YSSarahWomer | Posted: Wednesday, July 30, 2014 10:38 pm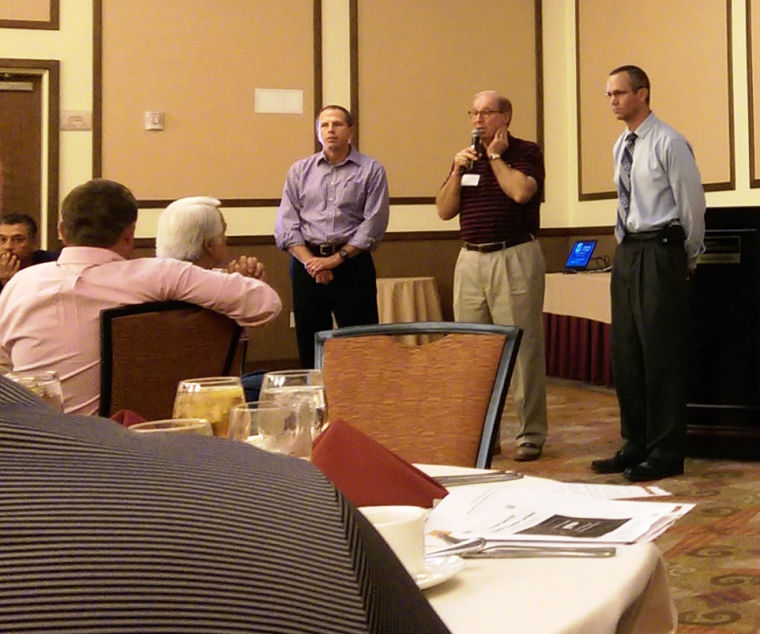 Talking about JTED
Yuma County Superintendent of Schools Tom Tyree (standing center) fields questions on the subject of a JTED (Joint Technical Education District) at Greater Yuma Economic Development Corporation's quarterly investor luncheon. Other speakers included site manager of General Motors Corporation Frank West (standing left) and superintendent of Snowflake Unified School District Hollis Merrell (standing right).
When initially looking to start up operations in the area, one of the first questions that General Motors asked was whether or not the Yuma community had a Joint Technical Education District (JTED).
"Unfortunately we had to say, 'No, we do not,'" commented Julie Engel, Greater Yuma Economic Development Corporation (GYEDC) president and CEO. The topic of a Yuma County JTED was discussed during GYEDC's quarterly investor luncheon on Wednesday to an audience of about 50 people that included educators, businesspeople and public officials.
Engel noted that JTEDs create a pipeline of future employees for GM and other industries. Yuma County is currently the only county in Arizona that does not have a JTED, which is an independent school district specifically established to provide CTE (career and technical education) or vocational programs for high school students. Engel added that while Yuma does not have a JTED, tax dollars paid by residents go to supplement the other 13 JTEDs around the state.
"It's time that we have a JTED of our own," she said.
Since moving to Yuma in 2009, Frank West, site manager of the GM Desert Proving Ground, has worked to make sure that local students have more opportunities for technical education.
"I've had a lot of interest, and I guess maybe even a passion, towards the importance of technical education. I see it every day in my industry. I see it in our community," he said.
"I think, at the fundamental level, it's the basis of a lot of the problems that we have, whether you're talking about unemployment, whether you're talking about offshoring jobs, whether you're talking about economic development – you name it, it's there."
West was part of the Yuma County JTED Steering Committee that recently developed a plan for a local JTED, which was approved by both the Yuma Union High School District and the Antelope Union High School District, as well as the Arizona State Board of Education. Next, the JTED will be on the ballot in November for voters to approve, as one of its funding sources would include local property taxes.
The forming of a JTED would cost homeowners a fixed tax rate of $5 per year per $100,000 of assessed valuation on their home. It would also cost commercial property owners $9.25 per $100,000 of assessed valuation on their business.
The property tax is estimated to generate a total of about $600,000 locally to support a Yuma County JTED. Also, an estimated $3.3 million would come to Yuma from the state JTED fund. Yuma County Superintendent of Schools Tom Tyree reiterated that currently local tax payers pay into the state JTED fund, yet Yuma receives no benefit.
Tyree stated that the funding would be an added boon to existing CTE programs at YUHSD and AUHSD campuses, as they would not replace their programs but provide additional funding to purchase industry-current equipment and materials that could be shared between programs.
He said that while high schools do a great job of educating students in CTE areas, as school budgets have decreased, providing or offering technical programs in high schools has become increasingly expensive.
Also during the GYEDC luncheon, Hollis Merrell, superintendent of Snowflake Unified School District, spoke to the audience about his years of experience serving as an administrator for the Northern Arizona Vocational Institute of Technology (NAVIT) JTED. NAVIT serves a total of 11 K-12 unified districts and uses existing high school campuses and their local community colleges to house its classes.
Merrell said that the additional funding stream of having a JTED has helped to propel its students to the next level, with the opportunity for them to receive additional technical certifications and in some cases a significant head start on an associate degree. He noted that JTED programs have helped to "hook" students who may have not seen the relevance in high school courses previously, qualifying them for higher-paying jobs that can help them pay for any additional education they may decide to pursue.