Forum takes in-depth look at local economy
BY JOYCE LOBECK @YSJOYCELOBECK | Posted: Monday, September 22, 2014 6:04 pm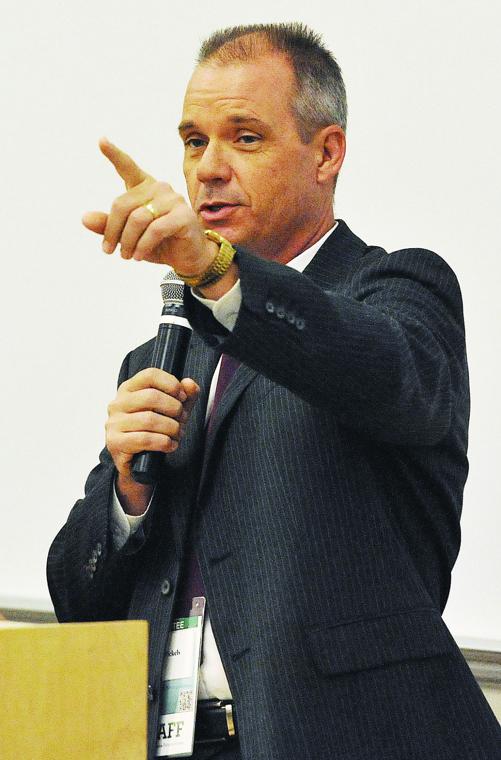 Economic Forum
Robert Pickels, Yuma County administrator, addresses those attending Friday morning's Southwest Arizona Futures Forum at the Yuma Main Library.
People in Yuma have been very clear that they would love to have a Trader Joe's and they have a list of other retailers and restaurants they want as well.
Perhaps in time they will come.
But if or when they do will depend on efforts to improve the economy by attracting industries that will bring money into the community and provide sustainable, good-paying jobs, noted Julie Engel, president and chief executive director of Greater Yuma Economic Development Corporation.
At stake is an economy that remains stagnant since the Great Recession, she said during a panel presentation at last week's Southwest Arizona Futures Forum that took an in-depth look at the area's economy.
Today, Yuma County ranks first and second with Imperial County as the most distressed metropolitan statistical area in the United States with an unemployment rate that persistently hovers near 30 percent, a median income below that of the state average and 21.4 percent of its population living below the poverty level, according to the research document prepared for the forum. That's in a state where the performance on measures of productivity and prosperity has been below the national average for decades.
And it's in a state that is lagging behind the nation in the recovery of jobs lost in the recession, noted Chris Camacho, former head of GYEDC who now is executive vice president of the Greater Phoenix Economic Council.
According to the latest jobless report issued last week by the state Department of Administration, Arizona has 137,000 fewer jobs now than before the recession.
"Who here feels good about the recovery?" Camacho asked the forum's audience. No one raised their hand.
He agreed with Engel that the focus for Arizona and for Yuma needs to be on attracting industries that produce goods and services to be exported to other areas, and let growth be a byproduct of that success.
In choosing economic activities to focus on, though, economic development must consider the region's strengths and weaknesses.
That's where the second part of the forum came in, when more than 100 community leaders, joined by several college and high school students, participated in discussion groups to explore "Southwest Arizona's Economic Perspective."
The final result is a consensus report on what participants see as strengths of the area and challenges it faces in moving forward Yuma County's still sluggish economy. That report will be shared with leaders from across the state in a discussion about Arizona's economy during the Arizona Town Hall in November.
One of the key challenges, forum participants agreed, is that while strides have been made, the community needs more educational opportunities in post-secondary degree programs and advanced certificate programs. One thing that would help is establishing a joint technical education district, which voters going to the polls for the November general election will be asked to approve.
Participants also expressed concern about misconceptions of Yuma being "hot, hungry and out-of-work." The challenge, they said, is "in changing this perception and highlighting our significant resources (proximity to borders and an existing and ready work force). …. We do not educate people outside our community of our wonderful attributes. This has to be a collaborative effort, where all of our communities – Yuma, San Luis, Somerton, Mexicali, Imperial Valley, etc. – create an image for our region."
One of Yuma's "greatest strengths is that it is the 'biggest small town' with a real collaborative feeling," the participants concluded. They also like the downtown area and the improvements made there over the years.
Among Yuma's other strengths is its prime location between several metropolitan areas and Mexico with millions of consumers. "We have a huge advantage logistically because we can be in other areas of the country faster than other communities," participants concluded.
Yuma also has many natural resources, including the Colorado River, its senior water rights and opportunity for renewable energy with its many sunny days.
They would like to see development of a regional plan with neighboring communities. And they would ask government to "streamline processes and remove the bureaucratic obstacles to make it easier for businesses to come to Yuma County."
Finally, they see a need to "keep our nonprofits robust ….these programs can help to improve our economy by providing support for those populations that need help preparing for future economic challenges."
Upcoming plenary sessions of the Southwest Arizona Futures Forum will be a poverty simulation program in the spring and focus on Yuma County water issues in the fall session.