Firm: Somerton, San Luis among state's safest cities
By Cesar Neyoy, Bajo El Sol | Posted: Sunday, September 14, 2014 5:00 pm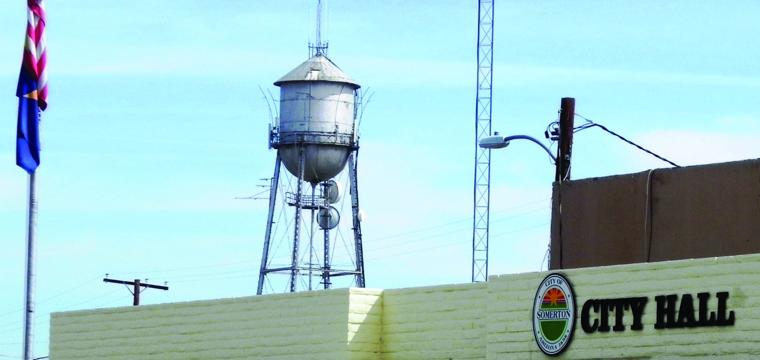 Safe 1
Somerton, seen here in this photo depicting city's century-old tower, has ranked for the second time this year as being among Arizona's safest cities.
SOMERTON – For the second time in less than a year, this city and San Luis, Ariz., have been ranked by a national firm as being among the safest cities in Arizona.
Using crime statistics provided by the FBI for 2013, national private security firm Safe Choice Security ranked Somerton and San Luis as No. 3 and No. 8, respectively, among the 17 safest cities in the state.
Safe Choice Security arrived at its rankings by calculating the number of property crimes and crimes of violence per 1,000 residents in Arizona communities of more than 5,000 residents.
Somerton, with a population estimated at 14,994, had an average of 1.23 violent crimes for every 1,000 residents and an average of 15.25 property crimes per 1,000, Safe Choice found.
San Luis, with a little more than 31,000 residents, had averages of 1.03 violent crimes and 20.66 property crimes for the same number of inhabitants, according to the firm.
Somerton Mayor Martin Porchas said greater community interaction on the part of city officials had a lot to do with the low crime rate in Somerton.
"Approaching residents in neighborhood meetings (in late 2013 and early 2014) was very good, because the people told us directly what were the biggest requirements to ensure their safety," he said. "From there, we gave instructions to police to do more patrols in residential areas."
Porchas is counting on the Safe Choice Security rankings to encourage investors to take a closer look as Somerton as a place to establish new businesses and housing developments.
Somerton Police Lt. Michelle Magana added that Somerton residents have played a key role in ensuring low crime rates in their city.
"To say that Somerton is one of the safest cities is something the police department takes pride in, because it tells us we are on the right track," she said, "and because it is possible thanks to the people who are helping ensure their own safety."
In both Somerton and San Luis, Neighborhood Watch programs have played a key role in fighting crimes, police officials from both cities say.
"Neighborhood Watch is how we are getting people to participate" in fighting crime," said San Luis police Lt. Victor Figueroa. "We are very proud to be one of the safest cities in the state also because our officers work hard to maintain the peace. That tells us we are doing good work."
In March, Somerton and San Luis placed No. 6 and 7 respectively in a separate ranking by Movoto Real Estate, a nationwide firm that used the same FBI statistics to arrive at its findings.
Police spokesmen in both cities said the challenge in the future will be to promote even greater participation by the public in efforts to prevent crime.
Magana said that in Somerton there are still too many residents who don't do enough to protect their homes and belongings from burglary and other property crimes. Figueroa, meanwhile, said many San Luis residents don't take advantage of crime prevention programs offered by that city's police department, such as residential checks while the homeowners are away on vacation.
According to the Safe Choice Security, the safest cities in Arizona, in order of ranking, are Florence, Sahuarita, Somerton, Oro Valley, Gilbert, Maricopa, Paradise Valley, San Luis, Surprise, Sedona, Nogales, Lake Havasu City, Camp Verde, Chino Valley, Buckeye, Goodyear and Scottsdale.