Farmer: Fallow program shows 'compromise'
BY JOYCE LOBECK @YSJOYCELOBECK | Posted: Monday, September 29, 2014 11:21 pm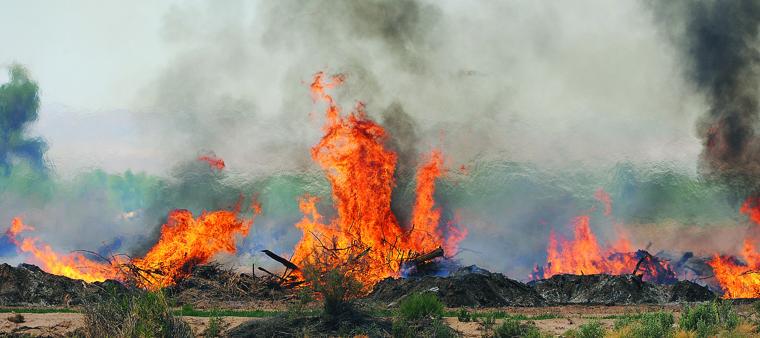 Burning trees
Flames and waves of heat rise from several piles of dried citrus trees set on fire.
Nine months into a short-term pilot fallowing program, citrus grower Mark Spencer is satisfied with the deal that was struck last fall between Yuma Mesa Irrigation and Drainage District and the Central Arizona Groundwater Replenishment District.
He also disagreed with the interpretation put on the program by a recent article in The Arizona Republic that reported farmers in Yuma were wholesale pushing out and burning lemon trees for the sake of the program.
"We're burning old lemon trees that we would have pushed out anyway," Spencer said, explaining that the ones taken out were 20 years old or older and their production of lemons was declining due to age and disease.
"This gave me an alternate crop," he said. "That's something we don't have on the mesa with the sandy soil there."
Under the pilot program, 33 owners of farmland on the Yuma mesa are fallowing a total of 1,420 acres of citrus groves and alfalfa fields and in turn receiving $750 dollars an acre per year to compensate them for the income they might have lost by not farming those crops.
The water they won't need to irrigate those empty fields will stay in Lake Mead to help maintain the level of the reservoir that has shrunk to a critically low level with the ongoing drought that has gripped the Colorado River watershed for more than a decade.
That's a critical situation for the Central Arizona Project, which faces a potential reduction of its share of the river's water by 2016 if Lake Mead continues to drop. The CAP carries water from the Colorado River to central Arizona, providing water for much of the state's urban population. Currently, 1.5 million-acre-feet of water from the river is diverted to CAP for use in Phoenix and Tucson.
But as the drought in the Southwest lingers on, there have been concerns that outside interests will come after Yuma County farmers' share of the Colorado River water.
Participating in the pilot fallowing program "shows we're willing to compromise in the time of severe drought," Spencer said.
The fallowing program is for three years and might be extended for another three to gather data on the amount of water that could be conserved by leaving fields idle. The program is only temporary and does not involve the sale of any water rights, Spencer said.
The program went into effect on Jan. 1, and "at this point I don't think anyone is unhappy," he said. He explained that the program provided the participating farmers with the incentive to push out crops that "needed to come out."
In addition to aged lemon trees, farmers also took out grapefruit, orange and Minneola trees that were losing money, he said. "They should have been pushed out years ago. This gives us the incentive to do it."
But farmers kept their good lemon trees, he emphasized.
In fact, nearly as many new lemon trees were planted last spring as were taken out for the fallowing program, Spencer said. Approximately 400 acres of old lemon trees were removed and at least 300 acres of new trees were planted.
The remaining acreage in the fallowing program was in alfalfa that also was due to be rotated, he said. "Any water savings will be in the alfalfa acreage."