Farm fresh: More Yuma locals seek organic produce
By Sarah Womer, @YSSarahWomer | Posted: Sunday, April 12, 2015 2:00 am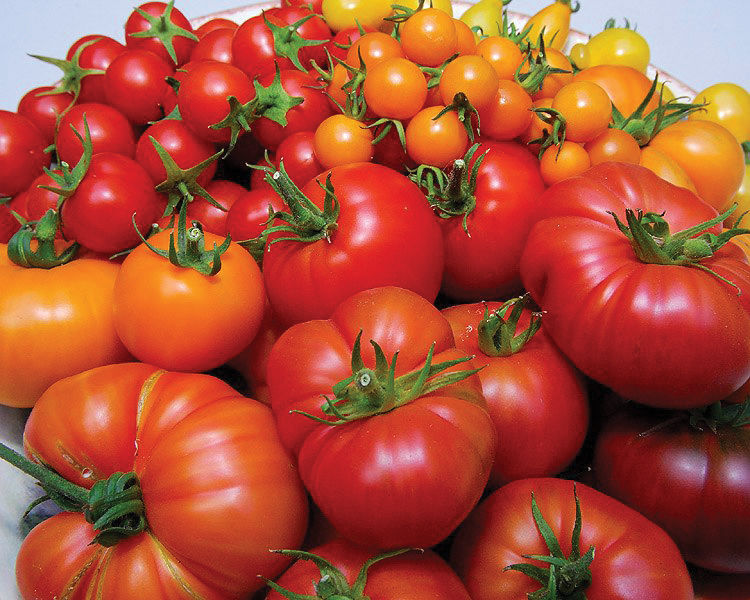 Closer look at tomatoes
An example of the variety of tomatoes sold at Hillside Farms.
There's been a boom in boutique garden companies in Yuma, which small urban farm owners attribute to an increasing demand for more options when it comes to buying locally grown, organic products.
Yuma Garden Company owners Alia Koger and Carmen Johannsen shared that since they started their business a little less than a year ago, they have seen a surge in the amount of people seeking out fresh, organic produce as well as other items.
In talking to their clients, they've noticed that for some, health issues seem to play a factor in their decision to shy away from commercial food items and opt for locally grown, organic products instead.
Johannsen explained that when people have battled cancer, for example, they will contact the Yuma Garden Company interested in pursuing a healthier diet.
"There's been kind of a wake-up call for a lot of people… We hear different stories like that from our clients all the time," said Koger.
The Yuma Garden Company specializes in growing organic vegetables on their two-acre family farm such as rainbow chard, kohlrabi, golden and red beets to carrots, kale, cabbage, romaine, arugula, and artichokes. They also grow flowers for floral arrangements and herbs that they use for infused oils, salves, tinctures and balms.
"Yuma Garden Company's main objective is to inspire others to self-sustain, to grow a garden, to eat GMO free, pesticide free produce and to promote a healthy lifestyle," said Koger. "We want to support local businesses and create a movement in Yuma that unites small business owners that promote health and wellness."
Yuma Garden Company recently completed their first farmers market "season," selling items at the Sunrise Farmers Market at the Yuma Quartermaster Depot Historic State Park from October until the end of March. They also sold their products from a stand out in front of their small urban farm home. Koger said that they were pleasantly surprised by the business and positive feedback they received from their customers.
"This first year was our experiment year and we feel like we couldn't have gotten more positive feedback. We're so happy with the way that it turned out. People can look for us bringing it 100 percent next season," she said.
Johannsen said that all the produce they grow is harvested the morning of the farmers market versus other produce in grocery stores.
"Our stuff is picked that morning, we like to leave the roots on it so people can put it in water or put it in the fridge. People know that that's going to have a lifespan of a month or two," she said.
As summer nears, they hope to still offer some produce, herbs and other products, but plan to start to get back into full swing again come fall.
Another business that frequently has a booth at area farmers markets is Hillside Farms.
The company grows organic vine ripened heirloom tomatoes, cucumbers, peppers, eggplants, colored carrots, squash, green beens, and assorted herbs, and other produce in their greenhouses.
Owner Joseph Dominguez said that he's noticed a recent boost in the community's interest in organic produce as well since he started his business in 2009.
"Being a direct marketer here in Yuma, that gives people the opportunity to know exactly what is going on with their food," he said. "As the interest grows people are becoming more concerned with where their food grows and how it's being grown and who it's being grown by."
His produce is picked ripe, less than 24 hours before it is sold at local farmers markets. That offers customers an overall more nutritious product as it doesn't get time to break down on a grocery store shelf, said Dominguez.
He said that he usually shuts down his operations the first week of May to clean out his greenhouses and prepare for next season, which is generally in full swing again by November.
Yuma's Grandfather's Legacy Farms has also noticed a recent increase in customers since they began their operations in June of 2014.
They pride themselves on going "beyond organic" and raising poultry that forage in their fresh pastures, free from pesticides and herbicides and are fed non-GMO, soy free grains. They sell packaged poultry and eggs that come from their "happy chickens."
Tonya Colsch, who owns the farm with her husband Shawn, said that they're passionate about sustainability, healthy food systems, and treating their animals humanely.
"What we found is that there are people who have been looking for our type of product. So we advertise on a website called eatwild.com and pretty much anyone that's there is looking for food that's pasture raised, small farm – where they can know the people that are raising their chickens or beef or pigs," she said.
"The interest has increased considerably, and I think a lot of what we're seeing is people will get a hold of us after they've watched certain documentaries or read certain books and they say, 'I need to know who is raising my chicken now.' A lot of our eatwild.com people who get a hold of us, that's usually what prompts it is a documentary."
While they don't offer poultry to customers year round, as their meat birds don't handle the severity of the Yuma summers very well, she said that they do have eggs for sale all year. They also have a small amount of breeding turkeys that are hatching eggs for those interested in purchasing or raising their own turkey for Thanksgiving.
She noted that the best part of their business has been the opportunity to connect with their customers.
"We know how important what we're doing is to them and we hear that again and again from them whenever they pick up their chickens… I think that's a personal connection that you can't get anywhere else."
Colsch said that due to having a number of regular customers, they don't generally set up at area farmers markets as their poultry and eggs sell out quickly.