Education, business sectors gather at summit
By Sarah Womer, @YSSarahWomer | Posted: Thursday, June 18, 2015 7:21 pm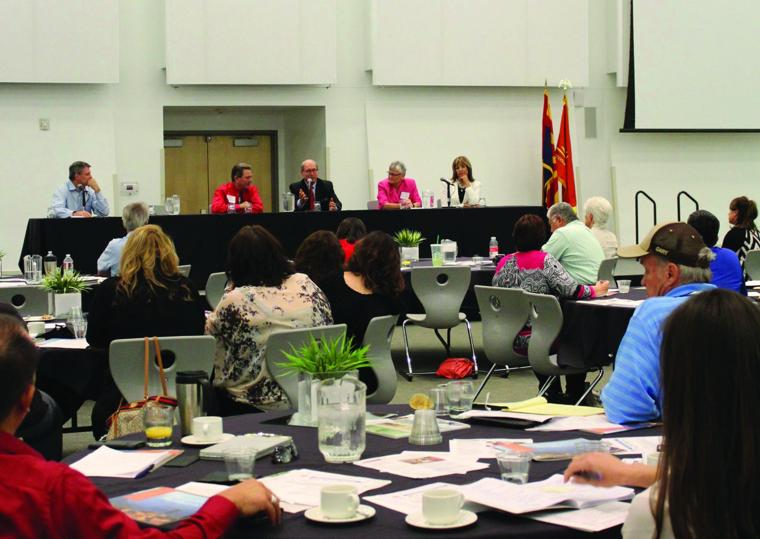 At the discussion
Yuma County Superintendent of School Tom Tyree (pictured center) addresses a question posed by Arizona Business and Education Coalition President and CEO Dick Foreman (pictured far left) during a panel discussion at the Yuma County Business-Education Summit on Thursday. Other panel members included Yuma County Chamber of Commerce Executive Director John Courtis (pictured second from left), State Sen. Lynne Pancrazi (pictured second from right), and Greater Yuma Economic Development Corporation President and CEO Julie Engel (pictured far right).
Collaboration between business and education as well as school funding were topics of discussion at a Yuma County Business-Education Summit held at Arizona Western College on Thursday.
Drawing a crowd of over 50 people, participants consisted of educators, businesspeople, elected officials, nonprofit representatives and other community members.
In addition to getting local perspectives on challenges currently facing education, Yuma County Superintendent of Schools Tom Tyree said that those in attendance also got a better understanding of what's occurring in education at the state level as well.
Presenters at the five-hour event included leaders from state organizations like Expect More Arizona, Arizona State School Boards Association, Arizona Business and Education Coalition (ABEC), Teachers in Industry, and The Arizona We Want.
After hearing presentations from state organizations along with a panel discussion consisting of local leaders, attendees participated in roundtable conversations during a working lunch hour to come up with a plan on how the business and education sectors can work collaboratively on common goals and meet mutual expectations.
One idea highlighted through the roundtables included the importance of collaboration, developed from building relationships with stakeholders and partners. Tyree noted that it is essential for both business and education leaders to communicate their needs and issues with one another and also make sure that businesses have a say in decisions made in education.
Greater Yuma Economic Development Corporation (GYEDC) President and CEO Julie Engel echoed Tyree's sentiments and said it's imperative that businesses have input into what curriculum and programs look like at schools, as they are in tune to what's most needed in the community. Although it won't begin classes until the fall, she noted that the recent voter-approved Joint Technical Education District has already helped to improve business-education collaborations, something she anticipates will continue to grow as the district expands its programs in the future.
Engel said that an educated workforce is critical, not only to GYEDC's efforts to attract new industry to the community, but also the retention of existing employers in the area.
Another comment made was that businesses and schools should be "champions for one another," advocating for the other's needs. Tyree gave an example of how needs in education, when communicated by businesses, sometimes have more of an impact on the community.
A strong consensus throughout the summit was that of the need for more adequate funding for education. Tyree said that it was agreed upon by most that education funding should be more sustainable, the process of budgeting and school funding should be made easier to understand, and it should also be equitable.
The Teachers in Industry program was also discussed as a viable option to get more educators involved in STEM industries and businesses.
In the fall, Tyree explained that he plans to pursue local businesses to see if they would like to participate in the program that would allow Yuma teachers to work at their businesses over the summertime. In addition to being paid regular wages, he said that instructors would gain invaluable experience in STEM fields that they could take back to their classrooms during the school year. Working four-day weeks, the teachers would also have the opportunity to take classes or go through professional development training on the fifth day of their work week.
Tyree concluded that the program could help attract more Yuma teachers to the area as they also have a chance to complete their master's degree through the multiyear program.
GYEDC, the Yuma County Chamber of Commerce, the Yuma County Superintendent's Office and ABEC all collaborated to put on the summit, funded through a grant from Intel.