Disabled vet earns national award
By Sarah Womer @YSSarahWomer | Posted: Sunday, July 27, 2014 10:26 pm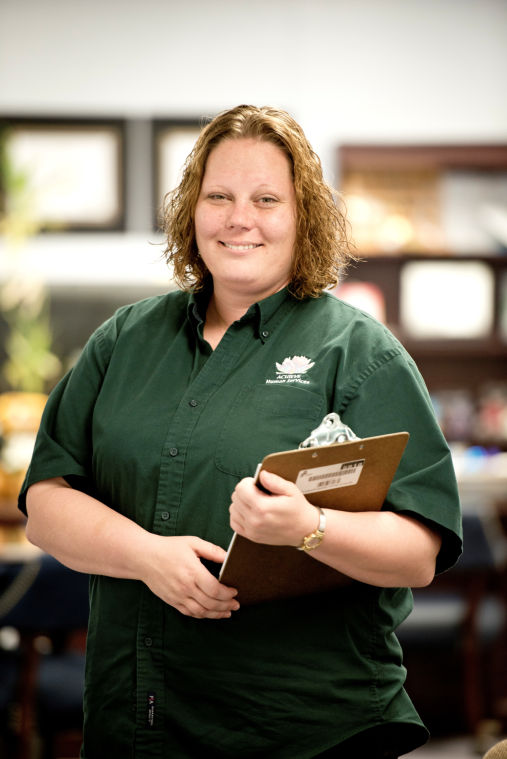 Holly Anderson
Holly Anderson, a disabled veteran and a manager at ACHIEVE Human Services, was recognized with the Tom Miller Award for Advocacy at the SourceAmerica National Training and Achievement Conference in San Diego, Calif. for her work with individuals with disabilities and for her grassroots advocacy efforts.
Holly Anderson has been recognized nationally for her work with individuals with disabilities and also for her grassroots advocacy efforts.
A disabled American veteran, Anderson first began working at ACHIEVE Human Services in Yuma eight years ago as a janitor. Now, Anderson is the quality control manager over ACHIEVE's government accounts which include local U.S. Border Patrol sectors and Yuma Proving Ground.
In 2013, she also played a leading role in conducting grassroots advocacy at the state and federal government – meeting with every Arizona lawmaker in the U.S. House and Senate to advocate for wounded warriors and others dealing with physical and mental challenges.
Through her efforts, Anderson was able to secure a 2percent increase in spending by the state Department of Economic Security, Division for Developmental Disabilities after funding was cut three years ago.
She was nominated by ACHIEVE CEO Carol Carr to receive this year's Tom Miller Award for Advocacy and was honored at the SourceAmerica National Training and Achievement Conference in San Diego. SourceAmerica is a national nonprofit that works to provide employment opportunities for those with disabilities through their network of community-based nonprofit partners. The inaugural award that Anderson received recognizes an employee with a significant disability who has demonstrated outstanding achievement and passion for advocacy on a local or national level.
While managing ACHIEVE clients who work to provide custodial services at YPG, a film crew from SourceAmerica took video of her in action that was also shown at the awards ceremony. Visit www.vimeo.com/94405108 to view the video, which also features Congressman Raul Grijalva talking about Anderson's achievements.
Anderson was trained by the late Tom Miller, who served on SourceAmerica's board of directors. He spent time coaching her to become a public voice for those with disabilities.
"I was very honored to receive the award, I had learned a lot from Tom Miller," Anderson said. "I was honored to receive the award to be recognized for my hard work."
When Miller became ill, Anderson was on a plane within a few days to fill in for him and help facilitate training for others with disabilities in Washington, D.C., looking to also do grassroots advocacy.
After Miller passed away from cancer last summer, she continued working to carry on his legacy by speaking out regularly about policies that impact employment opportunities for people with disabilities and continuing to train others to do the same. She also is a part of a speakers bureau where she encourages young girls to "pursue a career, remove the barriers in their lives and overcome obstacles."
Anderson noted that both Miller and Carr are her inspiration to do what she does.
A disabled veteran of the Navy, Anderson was stationed at Naval Air Station North Island where she served for three years as a third class petty officer on the USS Nimitz. She was injured after she slipped and fell during an under way replenishment.
"I got to where I had to wear tennis shoes and I couldn't be in the uniform of the day and I kind of felt like I didn't belong anymore, like I couldn't be a part of the military like I had been, for me it was an internal struggle," she said.
When returning from her deployment, she discovered that she had sustained a two-inch tear in her tendon from her fall.
"I've had two surgeries to try and repair it and it's still not (corrected). I wear a brace, there's times that I walk with a cane," she said.
After moving from California to Yuma in 2005, Anderson said that she tried working three different jobs before "finding a home" at ACHIEVE.
"It was real hard for me to feel like I belonged. When I found ACHIEVE I knew I belonged. I really felt like I was home again and I mattered."
Carr said that Anderson needed a place where she could continue on with her management skill set she had learned in the Navy, but also be afforded an opportunity to take care of the appointments she needed to facilitate her healing process.
She noted that under Anderson's watch, she has saved the Border Patrol over $100,000 in supplies as they are contracted with them to provide inventory management services. ACHIEVE also provides janitorial and grounds maintenance services for local Border Patrol facilities and checkpoints.
Carr also noted that Anderson has been instrumental in leading outreach in the community to seek out those with disabilities to provide them with training and either give them a job through ACHIEVE or find them a job elsewhere in Yuma County.
"I think often times our wounded warriors or our folks with disabilities fall through the cracks," said Carr. "Part of the grassroots advocacy that Holly has been involved with is about giving a voice to a population, that often times, the individuals can't even speak for themselves."
ACHIEVE is a community rehabilitation program based in Yuma that provides training and employment opportunities for those with disabilities. ACHIEVE stands for Activating, Creative Humanitarian efforts that lead to Independence and Empowering Ventures through Evolutionary change, according to its website.