Desert Gardener: Organic vegetables gaining in popularity
By Karen Bowen | Posted: Sunday, April 12, 2015 1:45 am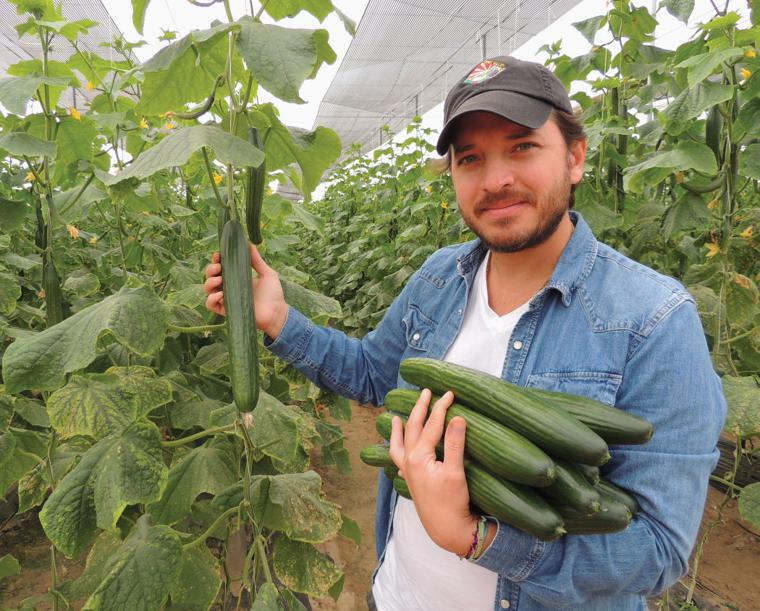 Displaying cucumbers
Miguel Crisantes holds English cucumbers grown in one of their greenhouses. Miguel and is wife, Mercedes, grow organic vegetables at Crisantes Ranches, 3780 E. Co. 13.
When you think of farming in Yuma, fields of lettuce, broccoli and cabbage come to mind. However, Crisantes Ranches, 3780 E. County 13th St., is busily adding new vegetables to that list.
'This is our third year in Yuma, and we are experimenting with several varieties of vegetables to see what does well. We are an organic farm, and no synthetic pesticides or chemical fertilizers are used," explained Hector Crisantes, who with his wife, Mercedes, operate Crisantes Ranches. "Our crops are rotated to maintain healthy soil, and we amend with compost and earthworm castings. Fish emulsion is used to fertilize our plants using a drip system. This year, our rotated crops included heirloom tomatoes, Roma tomatoes, sweet peppers, English cucumbers and American cucumbers. Our English cucumbers did well and produced a nice crop. We were very happy with their performance and plan to grow them again next year."
When I visited Crisantes Ranches this winter, I was impressed by their greenhouse filled with twine stretching from floor to ceiling and cucumber vines climbing up each string. The vines were already over seven feet tall with foot-long cucumbers hanging down, ready for picking. They will be picked, washed, chilled and wrapped in plastic before being shipped off to our local Greentrees Outlet and elsewhere in the U.S.
"Cucumbers don't like high humidity; and this winter, we've had rain at the wrong time which raised the humidity and made it a bit more challenging to keep mildew and other diseases away from the leaves," Hector explained.
"English cucumbers are a seedless vegetable, with female flowers producing cucumbers. We used both direct-seeding and transplants and found the direct-seeded cucumbers did better, so we will use seeds next year."
"In our experimental greenhouse, we are testing different varieties of carrots, chard, kale and beets, as well as watermelon radishes, mouse melons and Mexican gherkins. The best producing varieties will be added to our crops next season. Our goal is to offer produce that is of the highest nutritional value and at a good price. The public is welcome to visit our farm to purchase vegetables and learn about organic gardening."
Most gardeners try to grow organically, and it is always fun to talk with other organic gardeners to learn new techniques. Visiting the Crisantes offers an opportunity to share organic gardening successes and failures with fellow gardeners.
Mercedes Crisantes maintains a blog that compliments the farm called "Do What You Love Once a Day" at mercedeshalil.com. The blog offers nutritional tips, healthy life-style information and healthy recipes.
There has been a strong shift toward eating organic vegetables because of their delectable flavor and lack of pesticide residue, and it is good to see so many family-run organic farms serving our community.
Karen Bowen is a master gardener and member of MGM Garden Society. This column is sponsored by the Federated Garden Clubs of Yuma.