Datepac now world's largest Medjool date processing company
By Joyce Lobeck, Yuma Sun staff writer | Posted: Sunday, September 7, 2014 2:00 am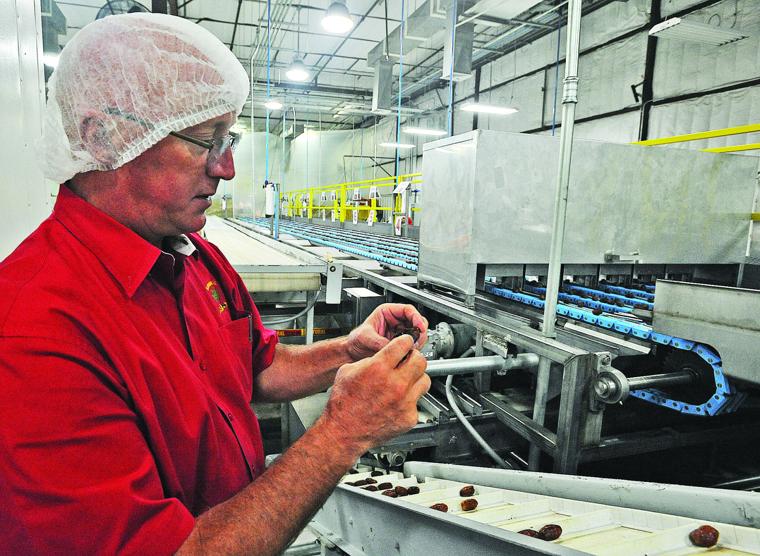 Datepac
Dean White, vice president of operations for Datepac LLC, examines dates inside the company's plant at 2575 E. 23rd Lane.
A multiyear expansion of Datepac is bearing fruit, so to speak, as hundreds of people and cutting-edge, million-dollar equipment processed thousands of pounds of Medjool dates on a recent busy day at one of two plants the company operates.
It's a scene that is repeated for two shifts a day throughout the season that runs from August to early November.
'We're the biggest Medjool processing company in the world," said Dean White, vice president of operations. "We were the biggest last year, and we've grown."
In fact, through the phased expansion and annual investment of millions of dollars, Datepac's production has more than doubled in the last three years.
In addition to advanced technology, Datepac has been investing in expansion of its two plants and an aggressive marketing campaign while its grower members continue to plant new trees in the Yuma area and even in Mexico.
White noted that it takes several years for date trees to start producing fruit, but the older they get the more productive they are. "We have more than a few 60-year-old trees."
The problem is that they get so tall, it's hard for workers to get up in them to take care of the developing fruit, he said. "Ten or 12 times a year we need to get in the trees."
Datepac's latest project was to develop an off-site parking lot this summer at the former Barco site at 2180 S. Pacific Ave., paving and fencing the lot, adding lighting, and providing security. From there, employees are now bused to work at the processing plant.
A future project will be to expand the facility with construction of a modular building to provide an employee training facility as well as additional restrooms. A freezer expansion also is planned.
White couldn't provide an exact volume of dates processed by Datepac but said it's millions of pounds each year.
And that's all taking place right here in Yuma.
Datepac operates two plants. Datepac East, 2575 E. 23rd Lane, and Datepac West, located in the 6000 block of West County 11th Street. It is four times the size of the East plant.
The dates are grown on groves in the Bard and Yuma areas by the growers who came together in 2002 to establish Datepac to collectively process their crop. Once harvested in late summer to early fall, the dates are sent to Datepac for sorting, drying, packing, storage and distribution.
Scanners and infrared cameras sort the fruit by size and quality. But the process is still very labor-intensive, White said. The West plant has around 700 workers and the East plant close to 500 employees. Both plants operate two shifts a day during the peak of the season.
Datepac has been so successful because of the growers who came together to establish it, White said. "In the rest of the world, everyone wants to do their own thing."
The Yuma company also is committed to a high standard of quality even as it grows, he said.
Dates may be one of the oldest fruits known to man, dating back to 4,000 or 5,000 years ago in the ancient kingdoms of Chaldea, Assyria and Babylonia. Perhaps none was more prized than the Medjool, which was such a delicacy that the royalty of Morocco hoarded all of the fruit for themselves.
Today, a large part of the world's production of nature's perfect treat is centered in the Yuma-Bard area of the American Southwest desert, where carefully nurtured Medjool date tree shoots were planted after a disease decimated the trees in Morocco in the early 1900s. Israel, which has similar growing conditions to the desert Southwest, also is a major producer of dates.
White said Medjool dates processed by Datepac are destined for markets across the United States and Canada. The product also is prized in Australia. Markets are increasing in Europe and even parts of Asia, such as Hong Kong.
The Mejool date no longer is just the date of kings, but it still very much holds the title of "king of dates," with consumers around the globe increasing demand for the moist, rich, sweet treat. They're also good for you, with fiber, potassium, antioxidants and other minerals.
Besides a traditional treat eaten out of hand or covered in chocolate, Medjool dates can be added to cookies, muffins and other dishes.
Dates processed by Datepac are marketed under the Natural Delights brand.