AWC's Mayle to push for funding as board chief
By Sarah Womer | Posted: Sunday, May 4, 2014 5:39 pm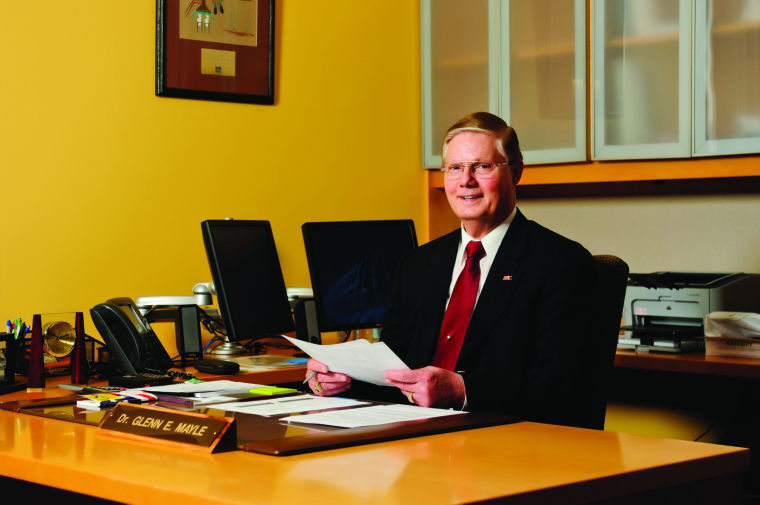 Dr. Glenn Mayle
Arizona Western College president Dr. Glenn Mayle, pictured here at his office on the college's Main Campus in Yuma, was recently selected to chair the Arizona Community College Coordinating Council.
Arizona Western College President Glenn Mayle was recently selected to lead a college council at the statewide level.
Chosen to serve as the Chair of the Arizona Community College Coordinating Council, Mayle will be part of a group of college presidents who work with Arizona legislators to raise awareness on the importance of funding community colleges.
"We need a unified voice from the community college districts to the legislators' ears," said Mayle.
He shared that state funding for community college districts has been significantly reduced in recent years.
"Arizona Western College now receives about 7.2 percent of our funding through the state, which is down from nearly 30 percent," Mayle said.
He shared that community colleges have been scrambling to make-do with decreased dollars. Mayle added that community colleges fulfill a crucial role in Arizona by partnering with local industry to create training, to provide certificate programs and associate degrees to maintain a well-educated trained workforce, and to fill the pipeline of prepared transfer students to the university level.
In addition to accepting the position as chair, Mayle will be responsible for leading the search to hire an executive director to represent the needs of community college directors at the legislative level.
The Arizona Community College Coordinating Council is funded with each community college district paying a percentage based on its full-time student equivalent.
Mayle's past experience in administration includes his years serving as the dean of instruction at AWC from 1977 to 1984 in addition to his 30 years of presidential experience which includes top leadership positions at Treasure Valley Community College in Ontario, Oregon; Gavilan College in Gilroy, California; and Northeastern Oklahoma A & M College in Miami, Oklahoma. Mayle came out of retirement in May of 2010 to become the president of AWC.
"He has a level and breadth of experience in administration, with the ability to effectively relate the philosophical, educational, and financial aspects of the community college district while working with stakeholders and legislators in a harmonious and purposeful manner," concluded an AWC news release.