Arizona Targets New Data Centers with Tax Incentives
Jun 28, 2013, 2:30pm MST UPDATED: Jun 28, 2013, 3:07pm MST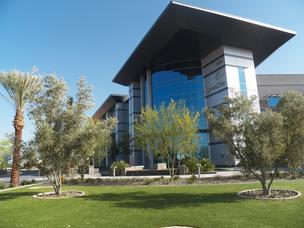 Data center operators in Arizona, such as CyrusOne will benefit from new tax incentives signed into law by Gov. Jan Brewer.
Arizona has a new competitive edge with tax exemptions for new data center building and infrastructure thanks to a new bill signed into law last week by the governor.
House Bill 2009 was passed in the special session and allows certain various tax incentives, beginning Sept. 1, for the owner, operator, and co-location tenants of data centers if they meet certain requirements determined by a certification process administered by the Arizona Commerce Authority.
"This makes the state very competitive," said Sylvia Kang, CyrusOne data center's vice president of site selection and acquisition. "Arizona has great features prior to the bill and is an ideal place for data centers to be located, but this really puts Arizona on a financial level playing field. It helps us to get clients previously looking at neighboring states to come here instead."
CyrusOne, which opened a large data center on 57 acres in Chandler in December, and Digital Realty, which has seven Phoenix properties, worked with the Arizona Data Center Coalition, Salt River Project and local economic development groups to get the legislation passed.
"Our goal was to place Arizona in a competitive position with other states for the expanding data center business," said Rick Berk, vice president of Portfolio Management West for Digital Realty. "We are committed to growing in Arizona and to supporting our existing and prospective customers who see the benefits of locating their data centers in the state with the available infrastructure, efficiencies, high reliability and the ability to enhance and/or expand their data center functions, and now the tax incentive."
HB 2488 creates the following tax incentives, for the owner, operator or co-location tenants of a certified data center:
Exempts data center construction from the prime contracting transaction privilege tax.
Exempts data center equipment purchases from retail transaction privilege tax and use tax.
Exempts data center electricity consumption from the utilities transaction privilege tax.
Urban data centers must invest a minimum $50 million into land, buildings, modular units and equipment to qualify, while rural data centers must make a $25 million minimum investment.
"The bill exempts infrastructure and the equipment purchased by the owner, operation or co-location provider, on the tenant side if they sign a contract for 500 kilowatts of power," Kang said from her Seattle office. "Their servers become exempt from the service tax as well as cabling and racks. That exemption runs for 10 years."
A data center can receive certification as a "sustainable redevelopment project" and increase the length of time that tax incentives are received by 10 additional years, for a total of 20 years, according to the bill.
Local data centers and customers will benefit from the tax exemptions on items such as generators, power distribution units, uninterruptable power supplies, computers, racks and cages, said Stuart Levinsky, general manager for CyrusOne Western U.S. CyrusOne, which has plans to build up to 1 million square feet in its data center and is building out modularly as more customers sign up, will be one of the first to take advantage of the new tax exemptions.
"Arizona was No. 1 about five years ago, but dropped out of the top 10 because other states were making it more beneficial for data centers to move there with tax incentives and technology zones," said Levinsky, a Scottsdale resident. "With tax incentives and our state's natural advantages, this should put us in very good standing."
Arizona is considered a low-risk state with no hurricanes, tornadoes or earthquakes, which makes the state a good place for data centers. The state also has lower electricity costs than California, Levinsky said.
Jim Grice, a partner with Lathrop and Gage LLP attorneys who works with the Arizona Data Center Coalition, said the bill is "intended to level the playing field for states aggressively competing for free-standing facilities and large tenants." Since data centers are so equipment heavy, the primary expense of a tenant are recurring server and equipment refresh every 30 to 40 months, Grice said.
"It's a big benefit for the state with income taxes gained, new high tech jobs and starts to foster research and development," said Kang from CyrusOne. "It's the wave of the future in terms of manufacturing facilities. This is kind of our latest frontier."