Air station bids one commander farewell, welcomes another
By James Gilbert, Yuma Sun staff writer | Posted: Wednesday, June 4, 2014 10:00 pm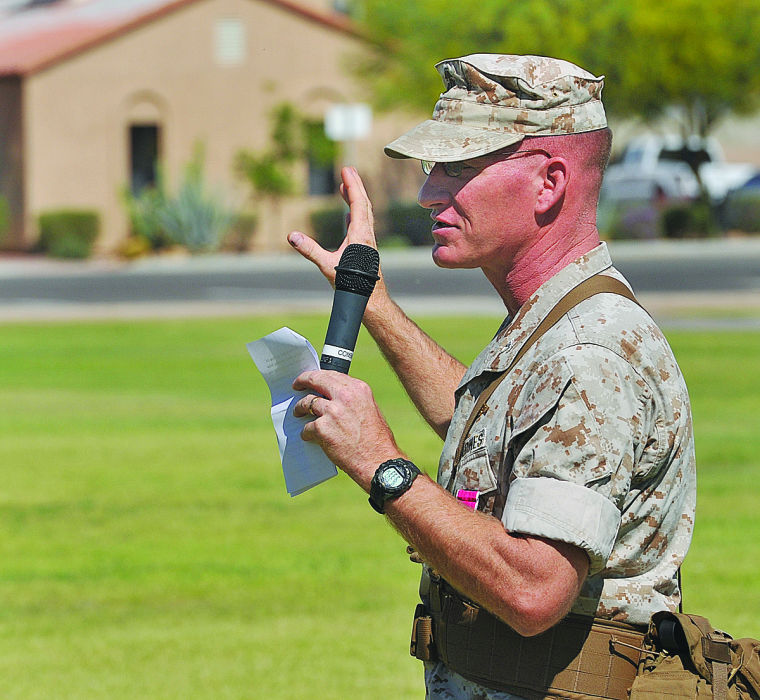 Change of Command
U.S. Marine Corps Col. Robet Kuckuk, outgoing commanding officer at Marine Corps Air Station Yuma, talks during Wednesday morning's change of command ceremony on the MCAS Yuma parade ground. Col. Ricardo Martinez assumed command of MCAS Yuma during the ceremony, replacing Kuckuk.
Col. Robert Kuckuk relinquished command of Marine Corps Air Station Yuma to Col. Ricardo Martinez on Wednesday during a formal change-of-command ceremony.
During the ceremony Kuckuk, who assumed command of the air station in May 2011, passed the corps' organizational colors to Martinez, who saluted him and then accepted the flag, an act signifying he was assuming the duties of commanding officer for the next three years.
Martinez, a helicopter gunship pilot, is coming to MCAS Yuma from Washington, D.C., where he served as the physical evaluation board adjudicator at the Secretary of the Navy Counsel of Review Boards. Including Martinez, MCAS Yuma has been led by 24 commanders dating back to 1959.
Brigadier Gen. John Bullard, commanding general of Camp Pendleton and Marine Corps Installations West, also attended the ceremony and praised Kuckuk for his tenure as the air station's commander and thanked him for his service.
"You have done an absolutely tremendous job. This base has undergone so many changes here, and the vast majority of those changes have been under your tenure and command," said Bullard, who served here from 1989 to 1993. "This base is the key asset for the Marine Corps and everything we do with Marine aviation."
Bullard said during Kuckuk's command there was well over $40 million in construction at MCAS Yuma, and now, the air station is home to the first operational squadron of F-35 Lightning II, which is replacing the AV-8B Harrier.
Kuckuk, who said he believed MCAS Yuma to be the best command in the Marine Corps, shared credit for his accomplishments with the civilian employees, Marines and sailors at the base, saying their unwavering support made doing the job possible.
"I'm a very lucky man to have been able to sit in this seat for three years and do the job I did," Kuckuk said. "I will never ever stop being continually in awe of all the work that all of you do every single day and the dedication you have to your country and the motivation that you give me every time I get to come into work and see you doing your jobs. It is awe inspiring, and I thank you."
He also thanked the community for its support of the air station and the Marines who serve there.
Saying he has had an outstanding career, Bullard told Martinez that he was well prepared to take over the mantle of command at MCAS Yuma, which is the busiest air station in the Department of the Navy and the third largest contributor to the economy of Yuma County.
"You are going to do a great job," Bullard said.
Kuckuk, whose next duty assignment will be as a professor of Naval Science for the Naval Reserve Officers Training Corps (ROTC) Detachment at Norwich University in Vermont, was also presented with a Legion of Merit award for his performance while in command and cumulative accomplishments throughout his career.
According to the award, under Kuckuk's tenure of command 48 military units trained at MCAS Yuma, bringing in 337 aircraft. During that time 16,500 tons of ordinance was also loaded and 560,000 flight operations were conducted.
Following the ceremony, the two colonels, along with other former commanders of the base who attended the ceremony, performed a ceremonial pass of review of the assembled Marines, who were from Headquarters and Headquarters squadron, as the 3rd Marine Aircraft Wing band played.