Ailing former YC player on the mend
By Sarah Womer @YSSarahWomer | Posted: Wednesday, July 23, 2014 9:14 pm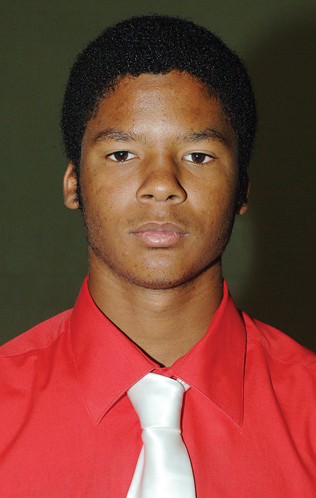 Everett McKinney
A 2012 graduate of Yuma Catholic High School, Everett McKinney was in critical condition after his body went into shock due to an infection that was affecting the function of his heart. Two surgeries later, 19-year-old Everett McKinney is almost on the road to recovery.
Two surgeries later, 19-year-old Everett McKinney is almost on the road to recovery.
He has one more surgery to go on Saturday before doctors at Diamond Children's Medical Center in Tucson expect that he will be able to return home to Yuma to begin his rehabilitation.
A 2012 graduate of Yuma Catholic High School, Everett was in critical condition after his body went into shock due to an infection that was affecting the function of his heart.
Everett was first admitted to Yuma Regional Medical Center in June after having difficulty breathing, something his family thought could have been caused by a bad case of strep throat. They soon learned that the throat infection had spread, damaged a heart valve, and caused an abscess to form. The infection also led to complications with the function of his other organs and extremities, which were later stabilized after he was flown to Tucson.
On July 14, Everett was stable enough to undergo an eight-hour surgery where doctors successfully replaced his damaged heart valve and also removed the infection that had formed around a hole in his heart. The hole in his heart, which was caused by a minor heart murmur he was born with, was also repaired during the surgery.
His father, Lawrence McKinney, said that preventative measures were also taken during the surgery to ensure sure that Everett would not need any additional heart surgeries in the future.
The day after his heart surgery, Lawrence said that his son was breathing on his own and began walking the following day, becoming more independent, doing things like brushing his own teeth.
"They didn't think he would be walking for a while. He's impressed all the doctors. There's a lot of people rooting for him in the hospital… They're very impressed with the momentum that he has and the determination that he has," Lawrence said.
If he hadn't required extra surgeries on his hands and feet, he would have been discharged Saturday.
Everett also went through a three-hour surgery on Tuesday and has another procedure scheduled for Saturday to remove the dead tissue that has formed on his hands and feet. Lawrence explained that when his son went into shock last month, his heart could only sustain his major organs and brain, not his extremities, leaving behind unresponsive tissue on the tips of toes and fingers due to a loss of blood flow.
While Everett may lose the tips of his toes during procedures in the future, Lawrence said that doctors don't think it will ultimately affect his ability to walk, or even, possibly, his ability to play football again. The function of his digits will be monitored during an estimated year-long rehabilitation.
"The first question that Everett had for the surgeon was, 'Will I be able to still play football?' And the doctor didn't rule it out, he said that it depends on your heart and desire."
Lawrence explained that Everett's goal is to be able to walk onto the football field during the first home game at Yuma Catholic to thank the community for all the support that he and his family have received. He's also hopeful to play football again after he is fully recovered.
Everett played football all four years that he attended Yuma Catholic and helped lead the Shamrocks to the 2011 Arizona Interscholastic Association Division V State Championship — the first football state title in the school's history. After playing football at Yuma Catholic, Everett went on to sign with Graceland University in Iowa. He played football there for his freshman year as a wide receiver before moving back home to Yuma during his sophomore year to be treated for a back issue.
After learning of his condition, Everett's classmates as well as parents of alumni from Yuma Catholic worked to raise funds for the McKinney family to help them pay medical costs.
Lawrence said that as of Friday, July 18, their family had received over $6,000 in donations gathered from a YouCaring.com website made by family and friends, a Rocky's New York Style Pizzeria fundraiser, and other donations.
He said that their family has been extremely grateful for the outpouring of community support.
"It's overwhelming, we never looked for any help or anything, the fact that people don't really know me or Everett's mom, but they know Everett and how much love they've showed for him, I can't believe the amount of people who have helped us," he said. He noted that the first wave of hospital bills have come in and especially considering that his wife will not be working until Everett is able to be independent again, the donations have been "really beneficial."
Their family has also seen a myriad of visitors that have come to see Everett.
"I think it's brought his spirit up and cheered him up a whole lot."
He noted that the Ronald McDonald House in Tucson has also been a great help to their family, providing anything they need to help get them through their time at the hospital and also providing them with a place to stay.
"When I think about how much they've helped us, I well up and almost cry," he said.