2 Yuma Sun workers now co-publishers
By Darin Fenger, Yuma Sun staff writer | Posted: Sunday, August 31, 2014 3:14 pm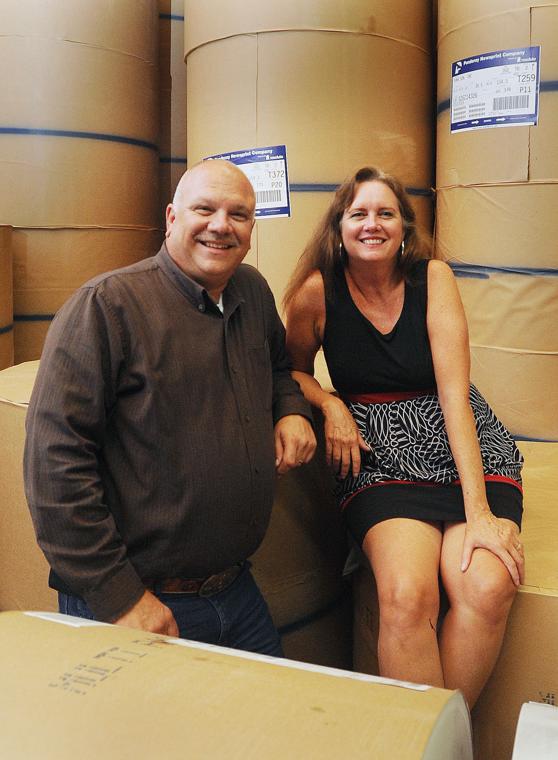 Co-publishers
David Fornof, left, and Lisa Reilly bring to their leadership positions 68 years of experience working at the Yuma Sun.
For the interim co-publishers recently appointed to lead the Yuma Sun, it's a fact of great pride that both have spent more than half their lives helping bring news readers can trust to Yuma County.
Combined, David Fornof and Lisa Reilly bring to their leadership positions 68 years of experience working at the Yuma Sun.
Fornof started his career at the newspaper 36 years ago as a Kofa High School freshman when he signed up for the school's program for on-the-job training. In his rise from an entry-level position to the top, Fornof estimates that he's held at least 14 positions between the newspaper's mail room and its printing operation.
Reilly joined the Yuma Sun's staff 32 years ago, beginning a career that would use her talents and shape her experience everywhere from the accounting department to marketing and advertising.
"For us, I think we bring some really unique talents to the table," Reilly said. "We both love the community role of the newspaper. I think that's huge, that we believe we can make a difference, not just in the business community, but the community as a whole. So we want to keep things running strong and going forward."
Rhode Island Suburban Newspapers, Inc., the company that owns the Yuma Sun, appointed Fornof and Reilly as interim co-publishers on Aug. 15. That announcement followed the departure of publisher Joni Brooks who took a position in Oklahoma City as publisher for The Dolan Company, managing The Journal-Record Publishing Company.
The co-publishers will also continue serving in top-level management positions they held prior to their promotion. Fornof serves as production director, while Reilly serves as advertising director.
Both agreed that while their recent promotion is thrilling and a welcome challenge, the development also felt "bittersweet" with "mixed emotions" because Fornof and Reilly both respected Brooks so much and truly enjoyed her leadership.
"The nice thing about where she left us is that we have a really strong management team. We have a whole staff who really cares," Reilly said. "It just makes it so much easier going forward, knowing that we have a big, strong team. It's not like we had a huge disruption."
They pointed to the length of service boasted by the other directors serving the newspaper. Kathy White, the business manager, has worked at the Yuma Sun for 25 years. Bob Roeser, circulation director, joined the newspaper's ranks 14 years ago.
"Roxanne Molenar came up through the ranks in editorial and now she's running that department as editor," Fornof said. "Lisa and I probably would not be able to do this without (those directors). That's the big part for us. We don't have to sit here and worry about these departments and what they are doing. We have an awesome group of people here. They know what they're doing."
For tangible proof of that solid know-how, Reilly pointed to the Yuma Sun's long tradition of earning honors from various statewide competitions. "We are an award-winning newspaper. That is huge for us," she said. "We win a lot of awards for journalism and for the advertising side of the house."
In addition to long ties with the Yuma Sun, the co-publishers also possess deep roots in the community in general.
"I am a Yuma native – born and raised," Reilly said with pride. "Why would anyone want to live anywhere else?"
Fornof and Reilly have both raised families in Yuma.
An avid outdoorsman, Fornof said Yuma's weather and desert landscape combine to create a great place to live for active families. "This is a place where you can do something 12 months out of the year," he said. "I talk to friends up north who are locked up inside with ice and snow. I am never stuck inside. The heat is just a state of mind. We know how to deal with the heat."
Fornof and Reilly have taken the helm at the Yuma Sun during a challenging time in the newspaper industry, but both leaders stressed that over the years they have seen the newspaper change and change again — and always thrive. Fornof pointed out that the Yuma Sun was one of the first newspapers in Arizona to purchase a modern offset press. He said the Yuma newspaper adopted computers back when many newspapers and other business were only experimenting in small ways.
"We're always trying something new. If something looks like a promising way to communicate with our readers, we will explore and possibly use it," he said.
Reilly agreed, saying: "To try new things and to be first — we're not afraid to try new things."
She added that as the newspaper business simply continues its long history of evolution, the future